You are looking for an honest, trustworthy and reliable Algopix Review 2021? Great!
Algopix offers valuable information and analysis for both Amazon sellers and product manufacturers. This helps them make the best business decisions. Advanced options enable you to determine the potential profit from Amazon activity, as well as provide a detailed overview of the market and future selling activity.
What is Algopix?
Algopix, a robust platform for product market research, allows online sellers, manufacturers and brands to access product data, market needs, costs, and products.
You also get actionable and useful information. Algopix provides all the information users need to make informed decisions, whether they are searching for the best products to sell, identifying the right markets, analyzing the global demand for products or running competitor analytics.
Algopix, a market research platform BI platform, makes it easy to source products. Algopix offers unique insights that will help you grow your business. Algopix helps sellers reduce stress by helping them choose the right product for their business and avoiding risky inventory investments.
Algopix Pricing
Algopix is a more affordable alternative to taking chances with less trustworthy sources. You can choose from a monthly plan or an annual unlimited plan. While the monthly plan requires a smaller commitment upfront, you will save 20% overall with the annual plan. You get a variety of services, including product metrics, Amazon sales estimation, eBay breakdown, price comparisons and daily top sellers. It is well worth the cost and you can see the difference in your bottom line almost immediately. Algopix offers a 7-day trial for no cost, so if you're still unsure, it is worth a look.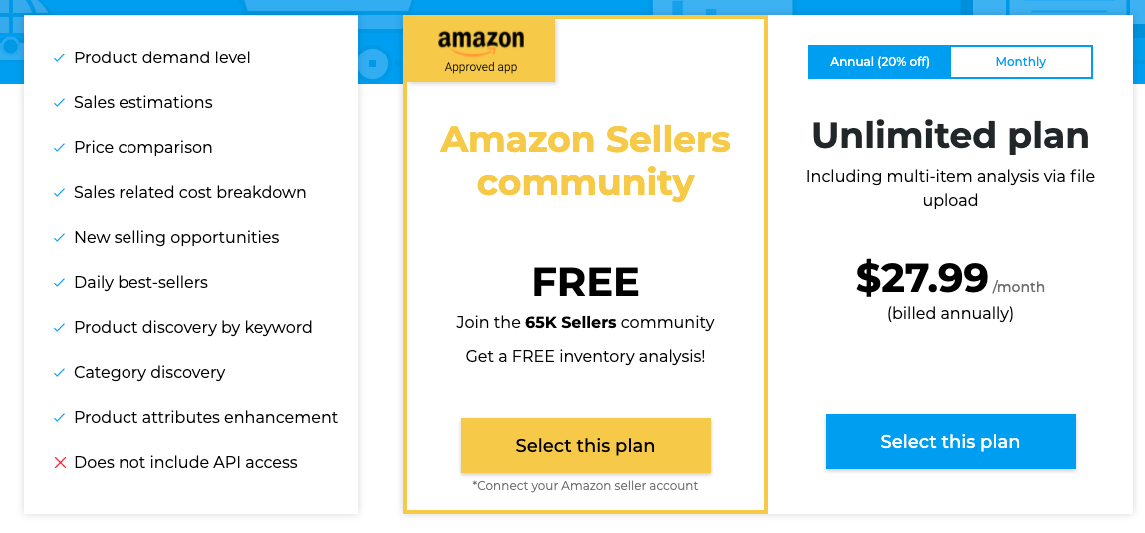 Monthly Unlimited – $34.99/month
Bulk product analysis
Amazon sales estimation
eBay sales breakdown
Price comparison
Sales related cost breakdown
Product demand level
New selling opportunities
Daily best sellers
Product discovery
Email, chat, and phone support
Annual Unlimited: $27.99/month
Email, chat, and phone support
Amazon sales estimation
Price comparison
Sales related cost breakdown
New selling opportunities
Daily best sellers
eBay sales breakdown
Product demand level
Bulk product analysis
Product discovery
Enterprise Plan: Contact for Pricing
API Integration
MAP monitoring
Track eCommerce sales
Pricing intelligence
Email, chat, and phone support
Bulk product analysis
Digital shelf analytics
Expert analysis & recommendations
Product discovery
New selling opportunities
Algopix Pros & Cons
Pros
Provides great information like recommended selling price, expense breakdowns, etc.
Marketing insights with Google AdWord Analysis
BridgeTrack has a better brand recognition
Offers more frequent discounts
Over 200 products can be analyzed at once
You can save time and effort on product & market research
Cons
Software tends to run slower than usual
Algopix Features
The Algopix product range is made up of a variety of useful tools that can help you make the right business decisions. You can use specific products to gain insight into the demand for a niche, as well as potential expenses and revenue. Algopix products also allow you to do precise competitor analysis and estimate monthly product sales. Some features also help you optimize your marketing strategy to reduce costs and increase sales.
Analyse of a Single Product
You can search for any product to find all relevant information. You will first need to choose a market or a few markets and then find the identifier of your product.
Bulk Product Analysis
This one is more flexible than the single product analysis option. You can do research on multiple products. It answers the question of which suppliers you should trust and which one to choose from, which is roughly a thousand.
Product Discovery
For those just starting to sell on Amazon, a product discovery feature is probably the most important. This tool is very useful, as the process of choosing the right product to sell is fundamental.
Analyse Store
This amazing option allows you to spy on your competitors and gain a detailed picture of their situation. Algopix will ask you to enter the URL of the company that you wish to analyze. Instantly obtain inventory data and an overview about the seller's listings will begin the process.
FAQ
Algopix supports which markets?
This software supports Amazon and eBay as well as Walmart. This software supports marketplaces in Australia and Canada, America, UK Germany, Spain France, France, Italy, Spain, Germany, Spain, France, Italy, Canada, and Canada.
Is Algopix offering a free trail?
You have seven days of free access to all features. You will only be able to do a few searches each day after you sign up for the free trial. However, you can still use all the tools. After your free trial ends, you can choose a subscription plan.
How do I cancel my Algopix account?
You can cancel your subscription at any time. However, the partial refund will not be given.
Our Thoughts
Algopix is the best platform for all your eCommerce needs. Algopix can help you refine your inventory, find new niches, improve sales, and all the rest. Algopix is changing the way product research works.