Third-party sellers who source products through Arbitrage and then resell them on Amazon choose from the most popular models: Retail Arbitrage or Online Arbitrage.
Arbitrage is a method of reselling that involves the reseller researching and gathering information about the selling price of a product before purchasing it. A reseller makes money by leveraging price differences between different markets.
Amazon arbitrage is a popular reselling strategy that sellers are increasingly using. Amazon sellers can find products in either retail stores or online that are cheaper than Amazon's. However, to identify profitable inventory, few sellers use scanning software.
What is Tactical Arbitrage?
Tactical Arbitrage, an online arbitrage tool that allows you to find profitable products to resell at Amazon. It allows you to find profitable products (on Amazon, wholesalers, or retail store websites), which you can then resell via Amazon.
After signing up, you will have access to the product search tool (assuming that you buy their Online Arbitrage package). This allows you to search many eCommerce sites for products that sell for less than Amazon.
Amazon sellers can use Tactical Arbitrage to find the most lucrative products to resell through the platform. It scans nearly 1000 third-party retail websites, compares their prices to Amazon, and looks for opportunities to sell low and buy high. It is the best tool available for online Arbitrage and product research in wholesale. I highly recommend it.
Tactical Arbitrage Features
1. Huge Database
Tactical Arbitrage offers a wide range of sites that you can scan. This makes it possible to find the best opportunities on the internet.
2. Wholesale Search
To find profitable products to list on Amazon, import and scan the wholesale manifests.
3. Amazon Flips
Amazon Flips is one of the newest additions to Tactical Arbitrage. It has quickly become my favorite feature!
Please find the best books you can buy and then flip them on Amazon.
4. Access to valuable data
You can view vital information about Amazon products like estimated sales and competitor inventory levels.
5. Extremely fast and accurate
Live scans are the most accurate but also the slowest. Live scans look at the website in real-time so that you won't see expired or closed deals.
It's still swift, especially considering how many data points are being scanned per minute.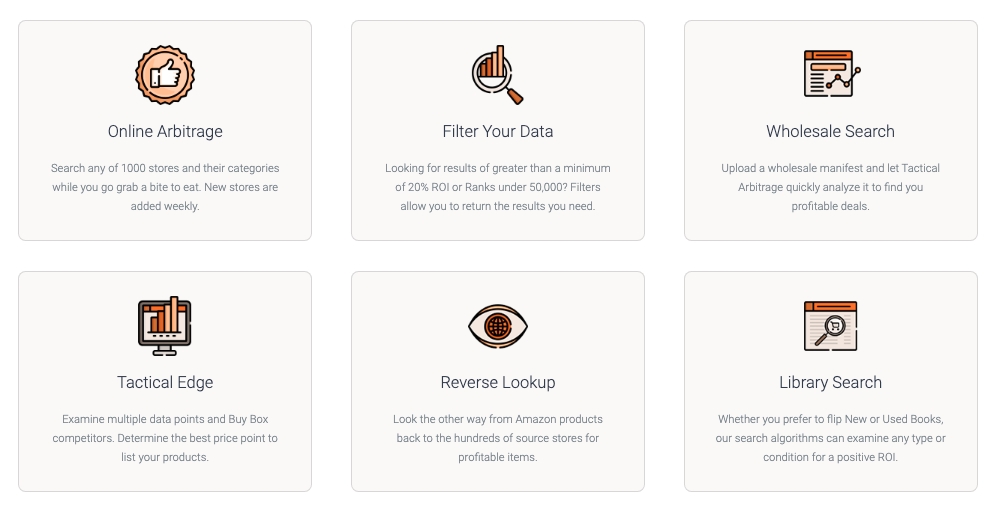 Tactical Arbitrage Pricing and a Free Trial
You will need to find out how much Tactical Arbitrage costs before you sign up. Below is a breakdown of the different packages available and their respective prices.
Flip Pack: This scan includes the module Library Search for flipping used and new books.
Wholesale: This scan involves scanning a Wholesaler manifest to identify profitable selling opportunities.
Online Arbitrage: This scan includes the module Product Search. It is used to find products online for sale on Amazon. Reverse Search is also available – This scan uses a list of Amazon ASINs to find places where you can make a profit. Both of these scans are related to Online Arbitrage.
The Full Suite: Includes all types of scans above.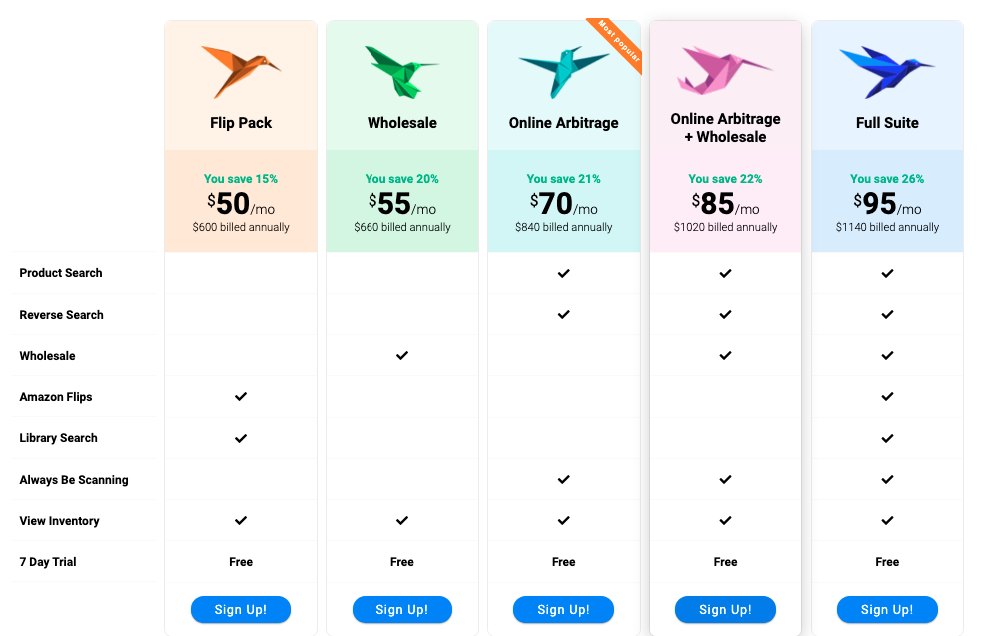 If you want to try Tactical Arbitrage out for free a one-week free trial is available.
NOTE: To use the Tactical Arbitrage platform, you must have an active Amazon Professional Seller account to conduct accurate product searches.
Tactical Arbitrage Pros & Cons
Pros
This reduces the time it takes to search for or source products on other sites
It is possible to integrate your operations with other stores
This online sourcing tool has been a huge success with users.
It is easy to access metrics
Excellent customer service and support
Data analysis is of the highest quality
Cons
These plans can be very expensive.
Tactical Arbitrage offers inferior plans that don't allow product searches.
Complex Software
This tool can show you where to find great deals on products, but it cannot tell you if they will sell well on Amazon. Other product research tools are needed to identify products that will sell well. These tools can show you sales trends and competition levels.
Conclusion – Is tactical Arbitrage worth it?
Online Arbitrage is best done with tactical Arbitrage. It is not easy to use the advanced mode, which allows you to adjust search parameters as you wish. Not all Amazon sellers have the same business model and may be different.
Although the initial learning curve can be daunting and time-consuming, it is well worth the effort.
Users can enjoy a smooth experience working with the Tactical Arbitrage platform thanks to its many packages and functionalities. This online sourcing platform has been called a game-changer due to the many features it offers.
Thank you for reading the Tactical Arbitrage Review. Do you have any questions? Comment below!