Why Amazon PPC Campaigns Are Important?
The sponsored products target the exact buyers looking for the relevant keywords. It is a logical and affordable plan. It is not a gamble because you pay only when the ad is clicked, so it is rightly called pay-per-click campaigns.
The click takes the buyer directly to your product. This increases your visibility, brings in fresh buyers, allows seasonal promotions, and improves product visibility.
In the following sections, we will show you the high-level trending tips for improving your ROI and decreasing your ACoS.
1. Keyword Strategy
This PPC strategy works because, as a new seller, you will have a tough time competing with well-established players in the market. Suppose you target the highly searched keywords right initially – keywords that usually come with high competition and CPC. In that case, you will end up spending a lot of money without getting any exposure for your brands, let alone traffic and conversions. Even if your listings get the ad impressions, the likelihood of getting sales will be low since your competitors have a much better position and reputation in the market for those generic keywords.
Therefore, the plan here is quite simple: Go after the long-tail keywords right initially, as you will face little resistance in getting ranked for those phrases. With little competition and high purchase intent, you can land sales relatively quickly and boost your sales history. Once consumers start to become more aware of your brand and the product starts to achieve a superior rank in the Amazon SERP, you can start targeting the next level keywords and gradually make your way up.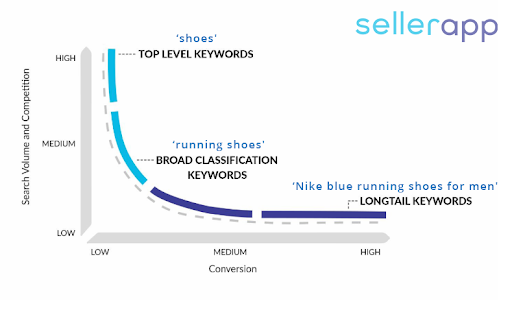 2. Rank Optimization
If the listing is ranking beyond page five or six on Amazon, it is recommended that you focus only on a handful of keywords that are converting well rather than all the ranking keywords. This way, you preserve your funds and concentrate on the phrases that are ranking in sales but are pretty far behind in the search results. The bid here needs to be relatively modest. Similarly, for those keywords ranked in the third, fourth, and fifth pages, you can follow a more moderate strategy that focuses on top-performing keywords as usual.
You need to keep bidding consistently over time and see which keywords are getting the most sales. Then, optimize your campaigns accordingly with these keywords. Lastly, for keywords that are ranking on page one and two, you need to proceed with an aggressive stance. Since you are just a few spots shy of the prime positions, you want to be as aggressive as possible with your bidding so that you can win those positions and improve your product's visibility.
3. Bids Adjustment
For every campaign that you run on Amazon, you can view the placement report and see which of the three positions brought you the most exposure and conversions. Based on this insight, you can set the placement bidding multiplier for each placement between 0% and 900% to further improve your odds of landing conversions and increasing brand awareness. Now here, you may have a question: If I'm using the placement multiplier along with my usual bidding strategy, what is going to be my default bid amount?
To calculate your default bid amount with all of the campaign bidding strategies:
Dynamic Bids – Down Only
Dynamic Bids – Up and Down
Fixed Bids
Here is what you need to remember:
The placement multiplier is first added to the bid price. The dynamic bidding increment is then added to arrive at the final figure.
4. Variations Grouping
If your product has multiple variations, they will most likely be listed as child ASINs. In such a scenario, running an ad campaign for each of them individually may not be feasible as it will eat into your budget and more importantly, your variations may end up competing among themselves for the ads. In a way, this is product cannibalization, and as such, you could avoid it when it comes to PPC campaigns. Therefore, an excellent strategy to tackle this problem is to group individual variations into one single package and then sell it on Amazon under a unique ASIN.
5. Top Variation Campaign
Suppose you don't have the bandwidth to create a combined package for your variations or run individual campaigns for all the variations. In that case, you can run a PPC campaign only for the top-performing variation. Again, this PPC strategy works well, provided the variations are listed as child ASINs.
Over here, you may miss out on increasing your average order value and other perks that come with grouping products together, but it will still be easier on your pocket and fairly more efficient.
The sales will eventually trickle down into the other options. It is because when customers visit your ads, they will also see the other variants available for the product in the same listing. Depending on their preference, they may opt for a different variation. Hence, the sale you consequently get here will be from an ad that was originally shown for your top-selling variant.
6. Alternate Keywords Targeting
One of the lesser-known ways to position your product well on Amazon lies in the way you present it to the audience. If you can highlight the features and benefits of your product vividly in your description in a compelling, creative, and engaging way, you stand to gain significantly from it.
But more than that, you will also have an edge if you target the not-so-direct, alternative keywords in your PPC advertisements. This is because, at times, people visit Amazon searching for solutions rather than looking for products.
In other words, they are not sure what they need until and unless they see the product for themselves.
Therefore, as a seller, you can identify these solutions your products address and target the same through Amazon Sponsored Products.
7. Product Performance Campaigns Structure
Often, we create ad campaigns based on the performance of keywords. If we see a keyword that is converting very well in an auto campaign, we move it to manual and set match types for better control over bids and daily budget. While this has proven to be an excellent strategy to improve your products' rank on Amazon, it can be a bit tricky to control the overall ACoS simply because some products may require more clicks than others to make a sale.
So, instead of creating ad campaigns based on keywords, consider creating them based on the performance of a product.
8. New-to-Brand Metrics to Increase Sales
If your brand is registered with the Amazon Brand Registry, you should look into taking advantage of Sponsored Brands. You can customize the ads to your liking with your headlines and product selection. These ads help increase brand awareness or promote particular products, thanks to their new-to-brand metrics.
These metrics allow you to gauge your sales and orders generated from first-time shoppers of your brand on Amazon.
You can use this data to optimize your Sponsored Brand campaigns and acquire new customers.
Alternately, you can identify the proportion of your sales to recurring customers and craft your advertising strategy accordingly.
Related Posts :
Amazon PPC vs Amazon SEO : Why You Need Both