Starting a store on Amazon can be done in a few easy steps. All you have to do is sign up on the Amazon seller central website, set up your business, create product listings, and start selling. Simple right? But here's the catch. The real challenge is to be consistent in being visible and relevant to your customers.
This can be achieved by PPC advertisements. Amazon Pay-Per-Click or Sponsored ads are where a seller creates paid campaigns to promote their business on Amazon. Every time a buyer clicks on these ads, the seller has to pay a fee. It helps the seller have a wider reach and be more visible. It is also a definite way of attaining a high rank and getting more customers.
If you have little to no experience in running paid ads on Amazon, it can be quite unnerving. But don't fret because there are numerous PPC Agencies in the market today that specialize in Amazon PPC management. Whether you are a small business or a large enterprise, these agencies will help you leverage PPC ads for all your marketing needs.
What is Amazon PPC Management?
Amazon PPC management is the process of overseeing all advertising activities like running, tracking, and optimizing the performance of each campaign. It requires constant monitoring and expert knowledge to run these ads.
If you lack experience, the whole process could work against you instead of working in your favor. That is the reason why companies entrust the responsibility of running PPC campaigns to these Amazon advertising agencies. With their expertise, they offer useful services for the successful running of your campaigns. Some of the services include,
Amazon Keyword Research
Sponsored Products
Sponsored Brands
Sponsored Display
Coupon Management
Campaign Management
Social Media Management
Lifecycle Management
Email Marketing
Bid Optimization
Why is PPC management important in Amazon Selling?
As a seller on Amazon, your goal is to have more sales. If your products are not reaching the right audience, you are missing out on those sales. Getting in touch with a PPC management agency will help you achieve your marketing goals. An agency is a viable option, as many sellers are not fully aware of how to market their brands. By handing over the responsibility to these professionals, you are opening up the chances of reaching more customers.
Saves your time:
The most apparent reason for choosing a PPC agency is that it saves time. One does not have to spend hours trying to manually monitor their campaigns. With the help of software and professionals, you can save time and focus on other tasks.
Scale your business:
Hiring a PPC expert is going to help you scale your business faster. These Amazon ad agencies have a thorough understanding of how the algorithm works. With their years of expertise, the work will be more efficient, and they can also provide you with reports to see where you need to make improvements.
Get more revenue:
As we mentioned earlier, your goal as an Amazon seller is to get more sales. Hiring a specialist will help in bringing your store to the forefront. As more people come across your product page, you will have an increase in revenue.
Expertise:
Lastly, appointing an agent to do your work will never go wrong. Their updated knowledge will always come in handy in optimizing your product pages. They understand the tools and the Amazon algorithm like no other, so be assured that investing in an agency will be fruitful for your business.
What to consider before outsourcing amazon ppc services?
There are a few factors to consider before choosing a PPC service. These factors will help you understand whether the agency fits your requirements or not. Make sure you go through the checklist and select the PPC management service.
Amazon ad partner: The paramount factor is to verify whether they are a part of the Amazon ad network. Ad partners help Amazon sellers scale their brands.
Performance record: Check if the agency has a team of experienced people who know the ins and outs of PPC management. Have a look at the testimonials to see their track record in eCommerce ads.
Result-oriented: The next step is to scrutinize if the specialists are committed to achieving better results. They must be proactive in handling the advertising process.
Monthly metrics: They must provide a performance report of the PPC analysis on a monthly or a trimonthly basis. Getting a report often will help sellers track their ads better.
How do I choose a good PPC management company?
Choosing the right PPC management company is crucial, as it plays a pivotal role in the success of your advertisements. Before you pick a management agency, you need to decide what services you will focus on. The next step is to research the company. The eligibility depends on the following factors –
Look for a company that has prior experience. This field involves a lot of technical knowledge, so if they do not have enough experience, it could all go downhill.
They must have ample knowledge of how the Amazon marketplace works.
The services they offer must match the solutions you are looking for.
They should be good at managing a budget.
Having an impressive track record shows they are authentic.
Positive client feedback is the biggest indicator of their work. The more positive reviews there are, the better it is.
You must also look for a transparent agency, as it is important to know what you will be paying for.
Have a clear understanding of the money you are investing and the complete breakdown of where it is going.
A professional team with good communication skills is a big green flag when choosing an agency. They must be open to discussion, as this needs to be monitored 24/7 to avoid having any doubts or unclarity.
Best Amazon PPC ad agencies: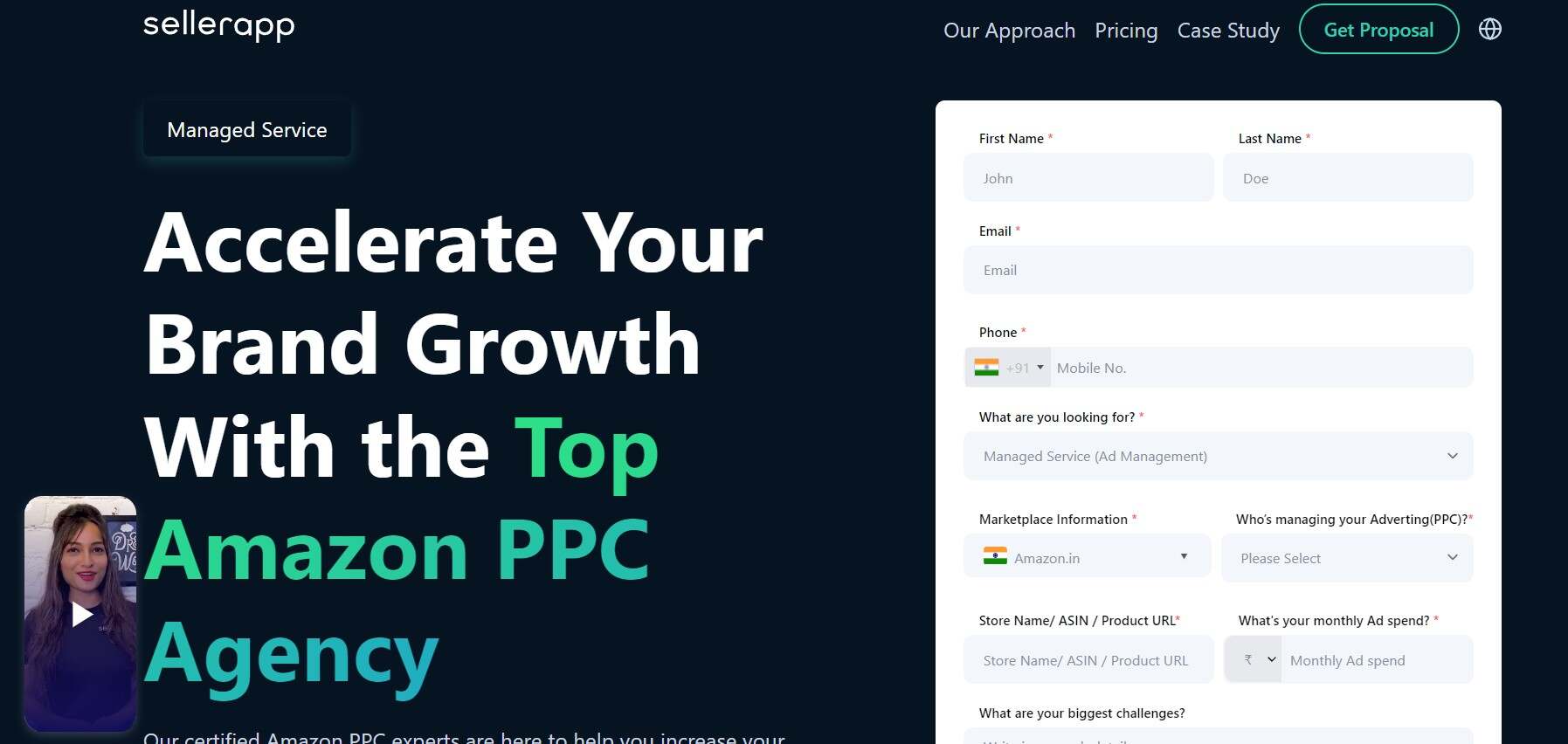 SellerApp is one of the best Amazon PPC management service providers in this space. They have an excellent track record of managing over $1.2B+ ad spend and worked with over 21,000 sellers, including brands like Coca-Cola, Samsung, Philips, Coolibar, and more.
Here's why SellerApp is the best Amazon PPC agency overall. We are evaluating based on certain metrics like expertise, delivering KPIs, innovation scope, and pricing, which are essential for a PPC agency.
Expertise: Their team of Amazon-certified experts has experience and expertise handling brands in most categories, including beauty, home and kitchen, electronics, and more. SellerApp has also been an advanced Amazon partner. They can help you win the Amazon game with full-funnel marketing.
Performance and results: The team drives results and creates campaigns that are performance-driven. They have a track record of increasing ROI by up to 8x and daily average sales by 3.7x for million-dollar brands. Be it leveraging brand ads to increase ROI or display ads to drive repeat purchases, the SellerApp team does know what it takes to drive key results for their customers.
Innovation: This is very important for a business to scale into the next phase of growth. SellerApp team constantly innovates strategies and tools to simplify your tasks. Tools and frameworks like dayparting, automation, and the RCCR framework are examples of just that.
Pricing: SellerApp scores brownie points in this category. They are cost-effective and affordable compared to most competitors in this category.
Here's what their customers say about SellerApp: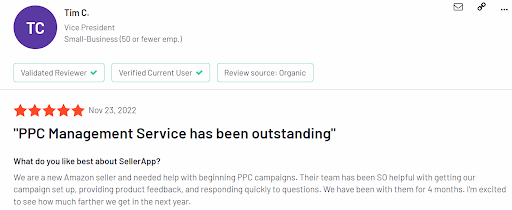 The benefits of choosing this agency include –
The experienced team will handle all the PPC activities.
With the dayparting feature, you can avoid spending money unnecessarily.
You do not have to worry about constant monitoring with automation. Just set the budget and duration, and your campaign will be taken care of automatically.
A specific member will be assigned to look after your campaigns.
Their special automation rules can be customized according to your goals. You can set the limit for clicks and ACoS.
Use keywords or ASINs to target brands and products.
Get bimonthly reports to keep track of the ad performance.
SellerApp's approach to managing ad campaigns includes a set of simple but elaborate steps that ensures your success. The assigned member will perform an audit report and give you all the details of your Amazon account such as, what areas need improvement, and how your ads are performing. They will then create a plan and run campaigns. The progress is constantly monitored and optimized as per the needs.
They focus on maximizing sales and profit, along with reducing your ad spending. With the help of their service, your campaigns will bring you maximum results.
They have worked with big brands like Coca-Cola, Samsung, Tag-e-Nuff, Philips, and more.
They provide both free and paid plans. With the Freemium plan, you can see a limited number of results per day.
Services:
Campaign management
Keyword targeting
Automation
Dayparting
Product Analysis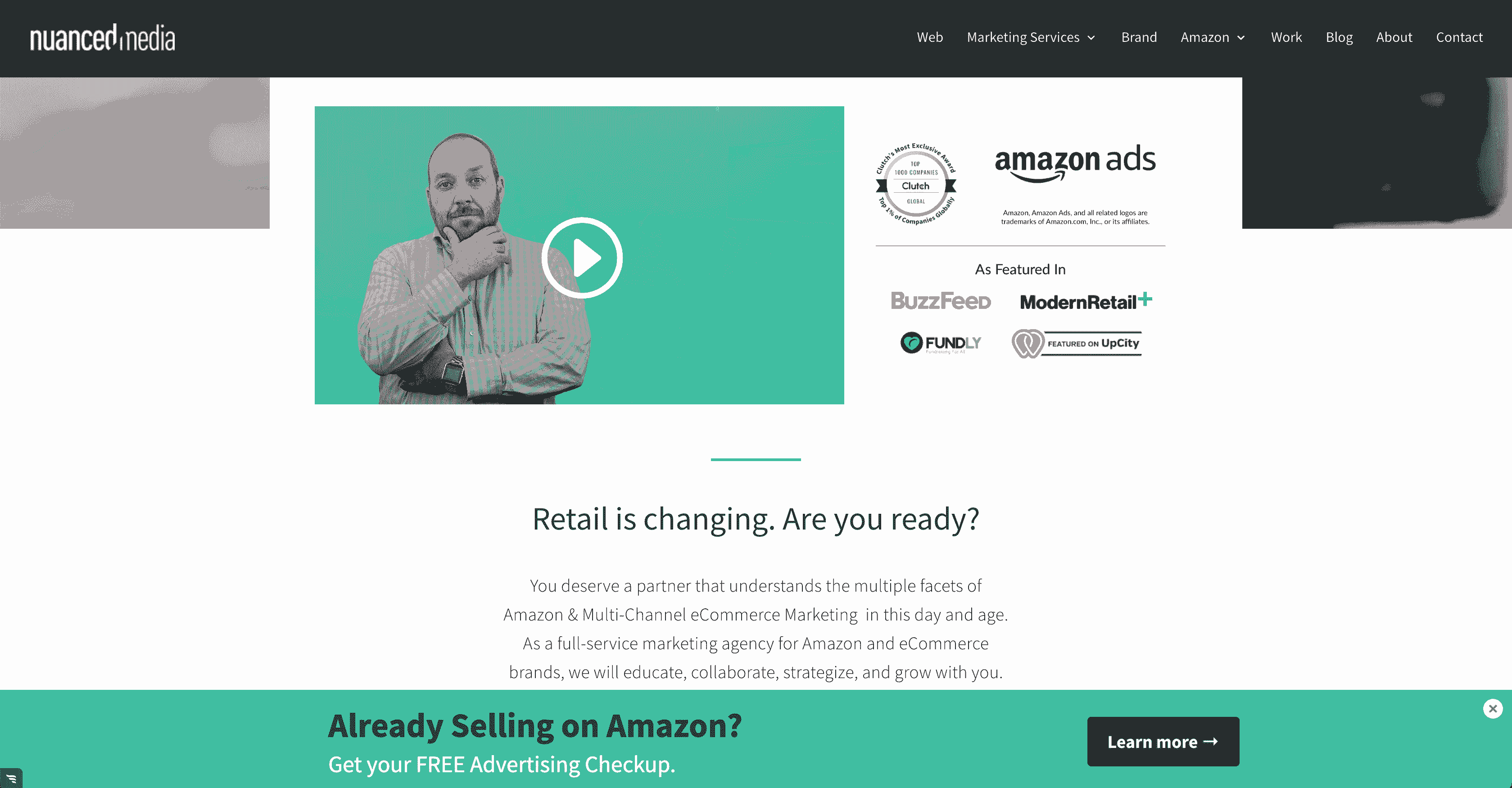 Nuanced Media is one of the leading Amazon PPC management agencies with a proven track record of 100s of millions of online sales for a wide range of different brands. They are an Amazon Ads Verified partner and part of Amazon SPN Network.
The Benefits of Working with Nuanced Media:
An experienced team that represents a number of top 25 brands in their respective category on Amazon
Superior project management and direct interaction with the team that is managing your Amazon Advertising campaigns
Advanced Amazon SEO Listing ranking strategy which leverages Amazon PPC
Listing keyword integration based on top converting PPC terms
Multi-channel marketing strategy to accelerate sales and organic rank on Amazon
Amazon Demand Side Platform (DSP) capabilities
Review Aggregation strategies & implementation to increase organic reviews on Amazon
Bimonthly reports to keep track of the ad performance.
Services:
Free Amazon PPC Audit
Market Place Performance Reporting
Amazon Campaign management
A/B Split Testing
Organic ranking strategy
Review Aggregation
Multi-channel marketing to Amazon
Keyword targeting
And more….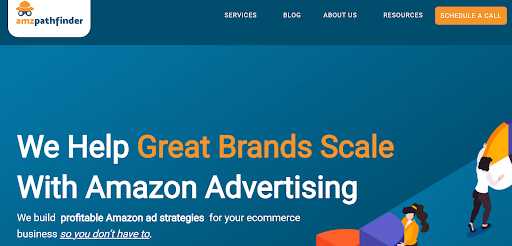 Brent Zahradnik started AMZ Pathfinder in 2015 to help brands boost their businesses on Amazon. Their management process starts with an account check. It is done to see what is lacking and which areas need improvement. An account manager will be assigned to you who will then make changes and optimize your amazon PPC campaigns. They will keep you updated about the ad performance, discuss any issues that come up, and give you a monthly report. You need to pay a two-month fee to start.
Services:
PPC Management
Demand Side Platform Management
Storefront Redesign and Build
Google Ads for Amazon Sellers
PPC Audit
4. AMZ Advisors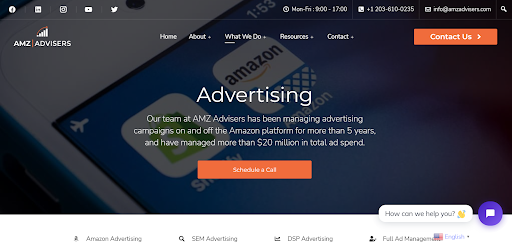 An advertising agency that provides a complete set of eCommerce services. Established in 2014, they operate in the United States, Canada, the United Kingdom, and Asia. They help brands, manufacturers and private labels grow their business on eCommerce platforms.
Services:
DSP advertising
Advertising management
Reporting
Marketing and promotional strategy
5. Sequence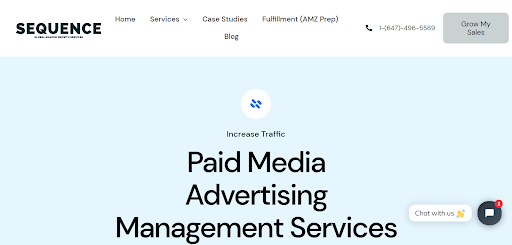 Sequence Commerce is a company that provides advertising services. Their team is equipped with information about the Amazon marketplace and managing advertising accounts. They have worked with Pillsbury, Callaway, Stone Bridge, Joe Boxer, etc. By hiring the expert team at Sequence, you can increase conversions and sales of your brand.
Their services include:
PPC and search expertise
Keyword research and advertising
Campaign creation
Keyword bidding
New customer acquisition
Performance insights
6. Ad Badger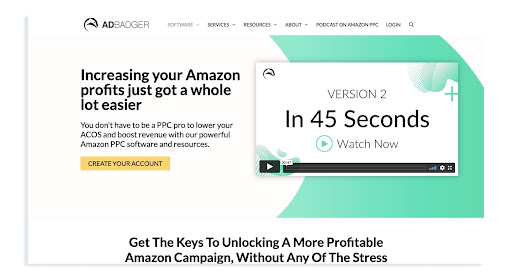 Ad Badger works to improve your traffic with automation and customization of your campaigns. Their automated bidding service ensures you get fast and immediate results. This agency was started in 2017, and since then has been helping brands get more profit and reduce ACoS. Their pricing starts from $975 per month + 8% of your ad spend.
Their services include:
PPC management
PPC coaching
7. Better AMS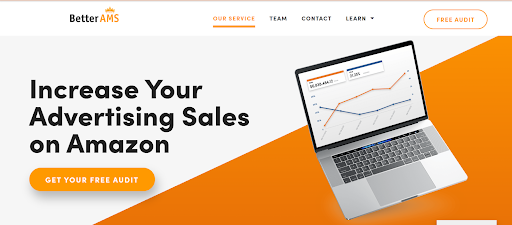 Better AMS was founded by Taylor Benterud and Destaney Wishon in 2016. Its headquarters is in Arkansas, United States. They are specialists in Amazon advertising. They focus on helping clients get more sales with their advertising.
The services they provide are:
Sponsored Products
Sponsored Brands
Sponsored Display
Sponsored Brand Video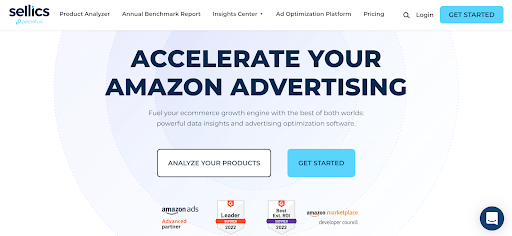 Established in 2014 in Germany, Sellics is one of the most well-known brands used for Amazon PPC advertising. They focus on automation, analysis, and optimization of your campaigns. With Sellics, you can grow your ROI and reduce ad spending.
The PPC management process includes a step-by-step analysis of clients' advertisements. Their pricing starts from $250 per month. They also offer free tools for optimizing Amazon PPC campaigns.
They offer the following features:
Keyword automation
Bid optimization
Campaign optimization
Dayparting
9. Teikametrics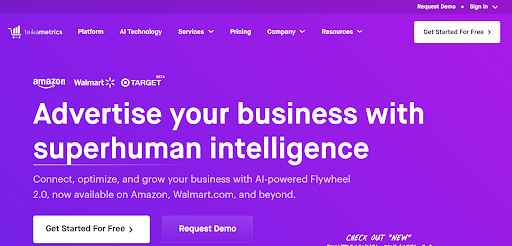 Teikametrics was founded in 2011 by Alasdair McLean-Foreman and its headquarters is in Boston, United States. The company has been successfully helping Amazon sellers for more than a decade now.
Their Flywheel 2.0 intelligence solutions connect marketplaces, analyze and optimize campaigns, and give desired results to clients. They have worked with countless brands like Nutribullet, Reef, Elf, Timberland, and more. They have three plans to choose from ie., basic, AI-powered, and ad management.
Services:
PPC optimization
Campaign creation
Customer acquisition
Keyword research, bidding, and harvesting
Seasonal and event strategy
Budget Pacing
Competitor analysis
10. PPC Entourage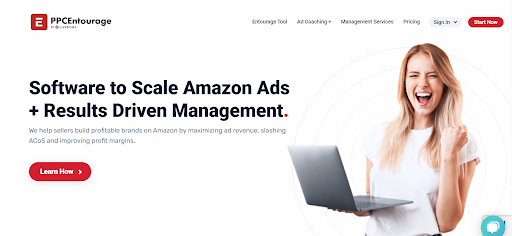 PPC Entourage was founded by Mike Zagare in 2016. It is one of the leading companies known for Amazon PPC management. The Entourage 2.0 tool makes it easy for sellers to optimize and manage their advertisements.
The features include
Automation
PPC optimization
Keyword harvesting
11. Ad Advance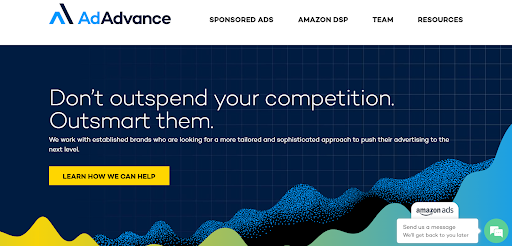 Founded by Joe Shelerud and Thomas Wiklund, Ad Advance is situated in Minnesota, United States. The company is an Amazon advertising agency. They provide complete PPC management service; that includes keyword research, bid optimization, and campaign management. They specialize in Sponsored ads and Amazon Demand Side Platform ads. Their approach is transparent and tailor-made for each client. You will get a biweekly report to see the progress of what actions are taken on your campaigns.
Services:
Pay Per Click Advertising
Amazon Web Services
Amazon PPC
Campaign Management
Amazon MWS
Marketing Strategy
Marketing Research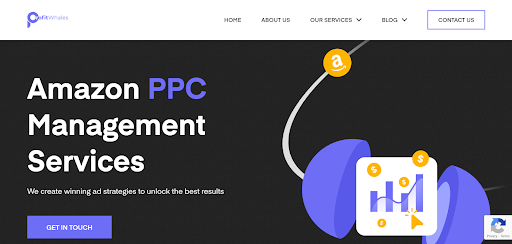 Profit Whales helps sellers optimize and manage their accounts to boost their business on Amazon. It was founded by Oleksandr Nyezhnyk and Ihor Dubovetskyi in 2018 and is located in Florida. The process includes complete analysis starting with account audit, testing, setting up the ad account, and daily monitoring and management of your campaigns. They provide weekly, monthly and quarterly reports for your campaigns. They offer a free audit report, and their fees start at $1000 per month.
Their services:
Pay Per Click management
Demand Side Platform ads
Product ranking
PPC audit
13. Skai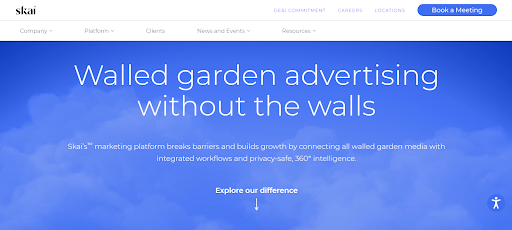 Started in 2006 and previously known as Kenshoo, Skai was rebranded in 2021. It was founded by Alon Sheafer, Amos Talmor, Nir Cohen, and Yoav Izhar-Prato. It is an omnichannel advertising company that helps sellers get data intelligence and scale up their business. They aim to enable brands to get insights and manage and monitor their ad campaigns.
Services:
Create campaigns
Keyword targeting
Bid optimization
Conclusion:
Hiring an Amazon PPC management service will open the ground for you to optimize and scale your business with ease. The PPC specialists will provide various useful services like keyword research, campaign management, automation, social media, email marketing, bid optimization, etc.
We hope this article gives you a clear understanding of the best PPC services available. You are now equipped with enough information to choose a suitable Amazon PPC service and expand your business to its full potential.