This Comprehensive Amazon PPC guide is designed for every Amazon Sellers. Whether you are a seller, brand, advertiser, agency or a consultant helping Amazon sellers.
Here are your Takeaways:
Introduction to Amazon PPC
Amazon dominates the e-commerce universe with more than 80% market share. This isn't surprising we bet. If you have a product to sell, then there is good chance that you are already selling it on Amazon Marketplace and you have come across one or more these advertising options and acronyms: AMG, AMS, AAP, ACoS etc.
Whether you are a seller or a brand, these Amazon advertising options can easily give you a head-spin. This Ultimate Amazon Advertising Guide aims to simplify this for you. So read on.
Why Advertising on Amazon?
If you are still wondering whether you should advertise on Amazon, here are some eye-popping stats about Amazon:
Amazon with 54% product searches surpassed Google (46%)
90% of all product views come from product searches on Amazon
Amazon, therefore, is the new Google when it comes to product searches. Guess what, Amazon allows you to advertise your products to these "Ready-to-buy" users searching for products. Where else would you find this 54% of product searchers?
More and more Amazon sellers are discovering this opportunity and advertising on Amazon, thereby increasing competition, driving CPC (Cost Per Click) up and profitability down.
Therefore, this is the best time to start advertising on Amazon and master your campaign performance before your competitors do.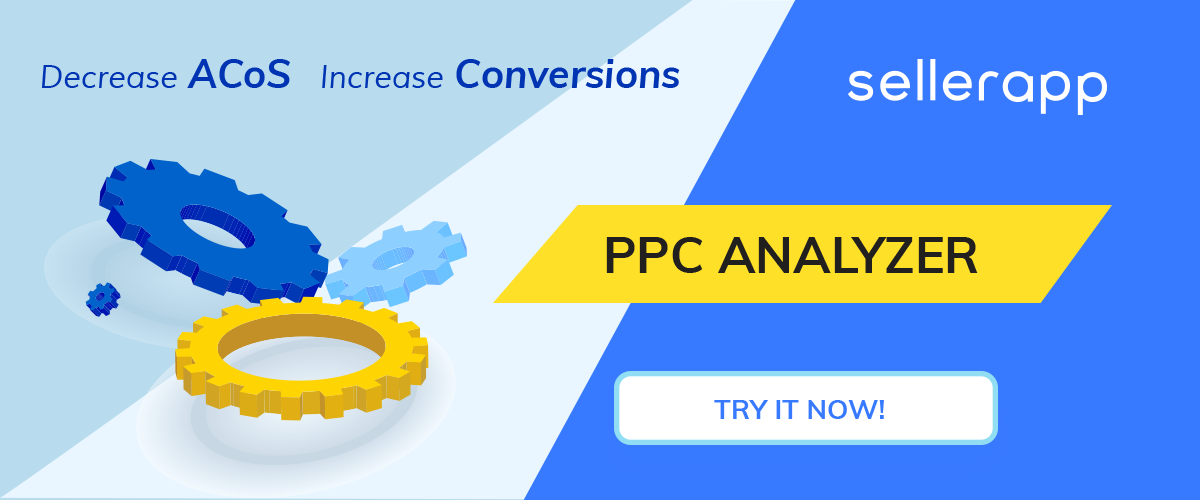 Does Amazon Pay Per Click Advertising Work?
The Answer is a big YES, Provided you have healthy margins on your products that account for advertising cost. Another way to look at it is if you are not advertising on Amazon, your competitors will soon eat into your market share and drive you out of business. The choice is yours
Does Amazon Ads increase organic results,
The answer is again a resounding YES? By advertising on Amazon, you will end up selling more, earn more reviews and ratings and all of these collectively help increase your product organic rankings on Amazon.
How Amazon Advertising Works
Amazon provides advertising options to both sellers and vendors, with different platforms and this can get really confusing at first if you are reading about Amazon PPC Ads. The simple answer is that:
Amazon, however, appears to be in the process of combining these programs under a single umbrella brand Amazon Advertising. Regardless of the program, you use, the most popular advertising format on Amazon works pretty much the same way.
Here is how:
List your product on Amazon
Setup Sponsored Ad Campaign by selecting the product you want to advertise
Add keywords you want to show your ad and the maximum amount you want to pay for a click
Voila, your products are now showing up as ads
So, you could set up a Sponsored Ads campaign on Amazon in three simple steps:
Create a campaign and select the product you want to get noticed
Add the keywords you want this product to be shown for, e.g. "iPhone X silicon case"
Place a bid (the maximum you want to pay for a click)
Your product may now be listed on top of the search results for "iPhone X silicon case", provided your bid is high enough to beat the competition.
Types of Amazon PPC Ad formats
Let's learn more about sponsored ads and other ad formats available to Sellers and Vendors on Amazon.
Sponsored Product Ads
Sponsored Product Ads are most widely used and possibly the most effective ad format out there on Amazon. As a customer, you would often come across these ads, almost every time you search on Amazon.
These Sponsored Product Ads are displayed within Amazon search results, marked as "Sponsored" in grey color.
Clicking on these ads takes users to the product detail page on Amazon.
They are charged on CPC (Cost Per Click) basis. Therefore you are charged every time someone clicks on your ad. The cost for every click is calculated based on a complex auction method, however, you would not pay more than you than your bid for every click.
These are keyword targeted ads which means you can target specific keywords matching your product and target audience to show your ads.
Why Should I Use This Ad Format?
Sponsored ads are the most effective and popular advertising format on Amazon, as it can be shown across the customer journey:
While searching for products
Browsing products through categories
Similar products
Checkout process
Because these ads are keyword targeted, you have precise control over who you really want to see your ad. For example, if you sell "running shoes", you can choose to show your ad only when someone searches for "running shoes" on Amazon, not if the search query is "sports shoes" or "gym shoes".
Available for both Sellers & Vendors
Sponsored Brand Ads
Shown on top of every search results page and offering a more visible format with heading and three ASINs that link to a listing page, headline search ads are ideal to promote your brand as well get more traction from advertising on Amazon.
Headline Search Ads show above the search results on Amazon
They show a headline and at least 3 products (ASINs) and take users to a listing page specifically created for these ads. Sponsored Brand Ads (Formerly Headline Search Ads)
Just like sponsored product ads and these are also charged on a CPC basis.
These are also keyword targeted ads which means you can target specific keywords matching your product and target audience to show your ads
Because only one Headline Search Ad is displayed on every search result page, therefore offering you better visibility and relative exclusivity as compared to Sponsored Product Ads.
Available for Sellers With Brand Registry & Vendors
Product Display Ads
Targeting your prospects by keywords while being the most effective method, has its limitations in terms of potential reach. That's where Product Display Ads come in handy. You can target your prospective customers by their interest as well as you can target your competitors' products and categories, to maximize your reach and ability to sell more.
Product Display Ads appear on product detail pages on desktop and mobile, search result pages, customer review pages, and top of the offer landing pages.
They link to their own product detail page and available for vendors only in AMS.
Just like Sponsored Product Ads and these are also charged on a CPC basis.
Product Display Ads target customers based on their interest as well as other products or product categories.
Keyword targeting is not available for Product Display Ads, therefore, this ad format is more suitable to increase awareness and capitalize on the popularity of your competitors' products and brand awareness.
Available for Vendors Only
Enhanced Brand Content (EBC)
Amazon Enhanced Brand Content is a premium feature available to brand registered sellers. This can be used to enhance your product listing with richer text and images, add a story behind your products and improve your chances of selling more products.
With your product listings that are part of your approved brand catalog only.
Using Enhanced Brand Content you can enhance your product listings with richer text, images and adding a story behind your products. This helps improve your product listing page appear more professional and legit, outstanding from the competition.
Currently, there is no extra cost for using Enhanced Brand Content.
This only help improves your product listings; therefore, the targeting is prospects visiting your product listing pages.
When you want your product listings to outstand from the competition as well as help your prospects make faster you can make good use of enhanced brand content.
Available for Sellers with Brand Registry Only
How much does it cost to Advertise on Amazon?
Amazon ads are primarily charged on cost per click (CPC) basis. Therefore, you only pay when a customer on Amazon clicks on your ad(s). There is no cost for showing your ads on Amazon.
The Cost Per Click (CPC) you pay to Amazon varies based on the following factors:
Your CPC Bid for your target keywords
Bids of other advertisers on the same keywords
The minimum price/bid for a click is $0.02
You decide the maximum you are willing to pay for a click, on every keyword
There are no setup costs or monthly fees. There are no minimums. You control how much you are willing to pay for a click and how much you are willing to spend on a daily basis (your daily campaign budget).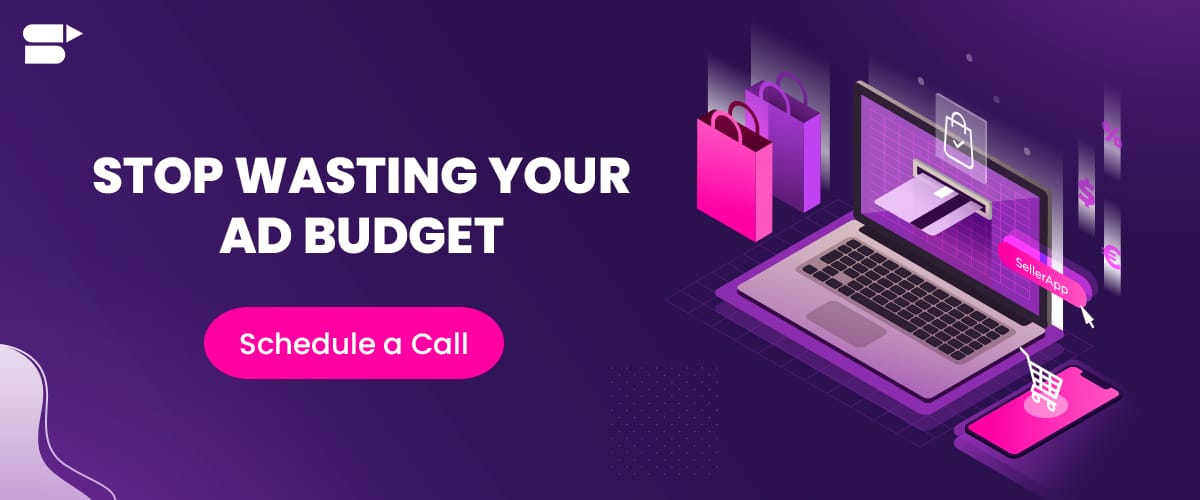 How Amazon Calculates Cost Per Click(CPC)
Amazon charges a minimum $0.02 for a click. This is also referred to as floor price of CPC. However, Amazon is a competitive marketplace where several more sellers are trying to sell similar products and therefore they try to bid on the same keywords as yours to show their ads. Why? Because on Amazon a limited number of ads are shown for every keyword search.
Here is how the ads show up Amazon, for example when a customer searches for "iPhone X case":
As highlighted above, there is one Headline Search Ad and only three Sponsored Product Ads are shown in the first scroll of the screen, the prime real estate on Amazon. Every seller with "iPhone X case" would like to show their ad here. However, the spots are limited to four ads on the first scroll and therefore Amazon assigns ad rank for all ads that qualify for the auction.
How are Amazon Ads Ranked
Ads on Amazon when qualified for an action, are calculated on the basis of your CPC bid and your ad grade. Here is a quick Formula to help understand this:
AD Rank= CPC Bid/ AD Grade
CPC Bid :
The Maximum Bid Placed for Keyword
Ad Grade:
CTR of your Ads
Conversion rate on your ads
Ratings & Reviews
Overall Sales of advertising product
Organic traffic to your product
This competition triggers a bidding war where advertisers bid higher than others to show their ads on top and as a result, the CPC goes higher. Higher the competition and more fierce the bid war higher will be the CPC for "iPhone X case".
You could, however, end up paying less than your bid depending upon the bid of your next best competitor and the quality of your listing (how well they sell and how good are the ratings and reviews). If there are no competitors for the auction, you will pay the floor price of that particular keyword/product category.
A Minimum 3.5 star rating is required for your product listing to qualify for ads.
How to Control Your Amazon PPC Budget
Although there is no way to accurately forecast your Amazon PPC costs until you have actually run the ads and know your CPC rates. However, there are some ways to have a relative idea of how much you will end up spending your Amazon PPC campaigns.
Start with Average Bidding Benchmarks
Amazon shares the average bidding benchmarks across the popular product categories and this is a great starting point to have an idea of the minimum cost you will pay for your Amazon PPC Ads.
Analyze The Level of Competition
Once you have the average bidding benchmarks, the next step is to analyze the level of competition in the product categories where you are looking to advertise. If you notice ads from several vendors, you can multiply the CPC rates by 2x, 3x or even 5x, depending upon the number of ads you see on keywords related to this product category. There is no fixed formula here, but you should be able to make a good guess of how fierce is the competition and therefore how likely are the CPC rates going up.
Consider running a test campaign with a fixed budget of say $50-100 on each product category you want to test, preferably with an automatic campaign. More about the automatic and manual campaigns later in this guide.
How to Get Started with Amazon PPC?
Getting started with Amazon PPC (Pay-Per-Click) is a crucial step for sellers looking to boost their visibility and sales on the world's largest e-commerce platform.
Eligibility
The first step to start with advertising on Amazon is to check which program are you eligible for. There are different programs available for Amazon Vendors and third-party sellers and the types of ads you can use vary. Here is a quick way to know which program you can use:
Amazon Sellers
If you are an Amazon third-party seller, you have your own catalog listings, prices, and inventory of items that you list for selling on Amazon. So, if you are a third-party seller, you can use only the following ad types:
Sponsored Product Ads
Headline Search Ads (for professional sellers with a brand registry)
Other promotional options:
Lightning Deals
Promotions
Enhanced Brand Content (provided your brand is registered with Amazon)
Amazon Vendors
Amazon Vendors only can use Amazon Marketing Services (AMS). If you are an Amazon vendor, you sell your products directly to Amazon which Amazon sells, fulfills and ships. If you are a vendor, then you are eligible to AMS platform and be able to use the following ad types:
Sponsored Product Ads
Headline Search Ads
Product Display Ads
Related Blog :
Amazon PPC vs Amazon SEO : Why You Need Both
How to Qualify As a Seller To Advertise Products
As a Seller on Amazon, you need to meet specific requirements to advertise your products on Amazon. Check if you meet these requirements:
Active Seller Account?
In order to advertise, you must have an active seller account on Amazon.
Ship To All US Addresses?
As a seller, you must be able to ship your products to all US addresses, to be able to use Sponsored Products and Sponsored Brands (Headline Search Ads) ad formats.
Products Qualify For Buy Box?
The products you plan to advertise must be winning the "Buy Box" on Amazon.
When competing with other vendors on precisely the listing, it's quite beneficial to understand where you stand relative to the buy box for that listing. SellerApp includes a report to this lets you observe your catalog's Buy Box breakdown on marketplace foundation and a per SKU.
Analyze the factors affecting your Buy Box with this report.
Enrolled In Amazon Brand Registry?
In order to use the Sponsored Brand Ads (Headline Search Ads), make sure you are enrolled into Amazon Brand Registry.
Advertise Only New Products
You would be able to advertise only those products listings to sell a new product. If you sell used or refurbished products, then you would not able to advertise them on Amazon.
What Products Can be Advertised on Amazon
Considering that you meet all of the criteria above as a seller, following are the product categories that Amazon says on their website, are eligible for advertising:
List of Categories Eligible for Advertising
| | | |
| --- | --- | --- |
| Apparel | Fine Art | Patio, Lawn & Garden |
| Appliances | Grocery & Gourmet Food | Pet Supplies |
| Arts, Crafts & Sewing | Health & Personal Care | Shoes |
| Automotive Parts & Accessories | Home & Kitchen | Software |
| Baby | Industrial & Scientific | Sports |
| Batteries | Jewellery | Sports Collectibles |
| Beauty | Luggage | Tools & Home Improvement |
| Camera | Movies & TV | Toys & Games |
| Collectible Coins | Music | Video Games |
| Computers | Musical Instruments | Watches |
| Electronics | Office Products | |
| Entertainment Collectibles | Outdoors | |
Planning your Amazon PPC Ad Campaigns
Advertising on Amazon requires a fair bit of planning and strategy. Without this, you may end up spending your money on ads and not get enough sales to justify the investment. Therefore, you should understand the basics of Amazon PPC and plan your campaign structure carefully by following all the best practices we will discuss later in this guide. Get started with the following steps:
Choose Your Products for Ads
Healthy Amazon inventory levels, if ASINs are out of stock they, they will not be eligible for promotion
Also, if ASINs go out of stocks mid-campaign, Amazon will automatically pause the out-of-stock ASINs in the campaign until they are back in stock
Products with healthy ratings of 3.5 and reviews. This is your quality score on Amazon and will set the tone of their performance with ads
ASINs that win the "BuyBox" are only eligible for ads, make sure you choose right products that win the "BuyBox" more often than others
Identify Your Target Keywords
Amazon is now the leading search engine on this planet for product searches, with a 54% market share. Therefore, showing your ads on right keyword searches is your best way reach your target customers on Amazon.
However, customers search on Amazon in very different ways than they would on Google. Majority of searches on Amazon are product or brand focused. Therefore, it's important to find the right target keywords around your products with purchase intent behind their search.
You may want to avoid informational searches like "laptops for business travel" or navigational searches like "Lenovo Laptops" and "Ultrabooks" and instead of focus on keywords with purchase intent like "MacBook Air 13-inch laptop".
Analyze Your Competitors
Amazon is a competitive marketplace for sellers like you and chances are that you would find several other sellers, selling similar products or even exactly the same products as yours. No wonder that we are talking about advertising on Amazon here. When it comes to planning ad campaigns, you could analyze your competitors (the best selling vendors, brands and product listings) and learn the following:
See what keywords they use in their product listing titles
How they have structured their product listings (layout)
Piggyback on the popular product/model/brand names in your keywords and listing titles, e.g. if you are selling laptop covers, you could use "Dell XPS 13 laptop covers" or "Lenovo IdeaPad laptop covers" to get added exposure on both sponsored ads as well as organic listing rankings.
Use higher quality pictures, by not necessarily copying theirs but getting an idea about what works on their listings
How to Setup Amazon Pay Per Click Campaigns?
Before we jump into setting up the campaigns, let's look at this 15-step campaign setup strategy our Amazon Ads specialists have mastered over years of setting up and managing highly successful Amazon PPC Ads campaigns:
Start with creating automatic ad campaigns
Follow an optimal naming convention (Sounds unnecessary? Well you'll thank us later)
Let your automatic ad campaigns run for a week or two.
Generate keyword search terms reports for automatic campaigns.
Sort the reports by the highest converting search terms.
Identify the winners (best converting) and losers (low or non-converting) search terms
Make a list of best-converting keywords to use for manual campaigns.
Make a list of low or non-converting keywords for negatives/exclusions.
Optimize your product listings with relevant best converting keywords.
Prepare your manual campaigns with the optimal structure
Align your best converting keywords with their relevant product listings.
Let these manual campaigns run for another week or two.
Generate keyword search terms reports for manual campaigns.
See how the keywords perform and analyze your ACoS.
Repeat the steps 1-14 for eternity (as long as you run Amazon PPC Ads)
Recommended to read: 12 Best Amazon PPC Optimization Tools for Sellers.
Setup Automatic Campaigns
If you are new to Amazon Advertising, setting up an Automatic Campaign is the easiest way to get started. This is however also important for existing advertisers.
Here are the 5 easy steps:
Create a campaign – enter a campaign name
Define your daily budget
Select "Automatic targeting"
Create an ad group – enter the ad group name
Select from eligible products you want to advertise
Set your default bid – Save and finish
Every time you create an automatic campaign, you should allow them to run for at least 2 weeks, in order to gather search terms and their performance data that will help you discover winning/losing keywords.
Use Campaign Naming Conventions
Before moving beyond automatic campaigns it's important to start following naming conventions because you may be creating several campaigns following our best practices and things will start getting messy real quick. In fact, this is blunder many sellers and even Amazon PPC Ad agencies make without realizing the consequences.
You will be creating parallel campaigns for Automatic and Manual Targeting, so it's a good idea to name the campaigns with "-Automatic" and "-Manual" suffix to easily identify later.
Your campaigns should be structured in line with your product inventory so that you know which campaign was created for what brand/category/group.
You may create some campaigns yourself, to begin with, and hire an Amazon PPC Agency on the way and then change the agency later. Naming the campaigns by who created them will help benchmark performances in long run.
You will be creating campaigns and/or ad groups with different keyword match types so naming the campaigns and/or ad groups by keyword match types will help identify them later.
You may create campaigns for different ad types as well (Sponsored Products, Sponsored Brands, etc.) so naming campaigns with campaign types will help identify them later.
Last but not the least – by keeping campaigns and ad groups organized you will save a lot of time and headache in long run.
Setup Manual Campaigns
Setting up manual campaigns requires an optimal campaign structure as it helps avoid duplication, clutter and even wastage of ad budget. It sounds simple enough but often ignored, not only by sellers who are new to Amazon PPC Ads but also by Amazon PPC Agencies.
Here are the guidelines to follow:
Organize Campaigns with Logical Ad Groups
Create Ad Groups for Similar Products
Create Ad Groups for Different Keyword Themes
Create Ad Groups for Different Match Types
Research Your Target Keywords
Before setting up manual campaigns it's important to discover keywords around our product ASINs that you want to target to your prospective buyers. Here are some ways to discover/research keywords:
Keyword Search Terms Report Of Automatic Campaigns:
Generate a search terms report on your Automatic campaigns and open in an excel file. Identify winning search terms by sorting the report by "highest converting keyword terms". The ones with more than 1 conversion and ACoS below your target are the winners. Copy these over to use as keywords for the manual targeting campaigns.
Come Up With Keyword Phrases Yourself:
Think about what your target customers may search on Amazon to find your products. Note down these keyword phrases for each product.
Use Keyword Research Tools:
These are some keyword research tools that can help discover keywords people are searching for on Amazon, Google, and other search engines. Although search patterns and intents are different on Amazon, you should still be able to get a good list of keyword phrase ideas to get for your products:
Tools
Types of Keyword Match Types
Keyword match types basically define how your keyword will be matched with search queries of your prospects to show your ads. Amazon offers the following match types to be used for targeting:
Broad Match:
With Broad Match, your target keyword will match the prospect's search query, even if it not typed exactly but has a similar meaning. This may include synonyms of the words, misspellings, variations or words written in a different order. Use this to maximize your reach around your target keywords. For example, if your target keyword is 'mobile case', Amazon may show your ad on keywords search like 'mobile case', 'mobile cover', 'cell phone cover' or even 'iPhone case'.
Phrase Match:
If you want more precise targeting then use Phrase Match, as Amazon will show your ads only when your target keyword matches or its part of the prospect's search query. If you place "mobile case" in phrase match, Amazon will show your ad when search queries are "mobile case", "cheap mobile case" or "mobile case with new designs". Notice that in every search query your target keyword appears as it is.
Exact Match:
With Exact Match, Amazon will show your ad when prospect's search query exactly matches your target keyword. So when a prospect searches on Amazon by typing exactly [mobile case] then your ad will show up. Your ad will not be shown for anything similar. Therefore, precision targeting but limited reach.
Ideally, you should start with separate ad groups for each of these keyword match types, to test which match type delivers the best results. Obviously, exact match will deliver the lowest ACoS but your reach will be limited. You might see both controlled ACoS and relatively better reach with Phrase Match keywords. The Broad Match keywords ad group is recommended for keyword discovery as it helps discover more search terms you can use as target keywords, depending upon their performance.
How to Optimize Amazon PPC Campaigns?
Amazon PPC campaigns need to regularly optimized for better results and lower ACoS. Here are some strategies:
Campaign Structure Optimization
Select your best products for ads, ASINs rated above 3.5+ stars convert better.
ASINs with poor ratings and negative reviews should be not advertised as they will convert less as well as hurt your brand/seller reputation
Select ASINs that frequently wins Amazon Buy Box
Product Listing Optimization
Research and identify a focus keyword and at least two related keywords for every ASIN.
Use your focus keyword as early as possible in the ASIN title, followed by related keywords.
Ensure your product title accurately defines your product and its key characteristics.
Piggyback on the brand name in the product title to take advantage of search volume on brand name searches.
Improve product detail pages with multiple and high-quality product images.
Ensure that product description provides detailed, compelling, relevant and up-to-date information about the product.
Highlight key aspects of your product with bullet points
Overall the content in product description should be well structured with headings and subheadings to help users scan through it quickly.
Bidding And Budget Optimization
Start bidding at 50% above the category average for keywords to help ensure they're winning.
Gradually reduce bids on ASINs that frequently get into the auction but return ACoS higher than the target.
Increase bids on ASINs that return lower than target ACoS but not enough conversions
Set daily budgets for your campaigns (instead of campaign-level budgets) for increased flexibility. Note that campaign-level budgets cannot be decreased.
Set daily budgets to the maximum on campaigns that return profitable ACoS, to avoid losing out on search volume. Campaigns are automatically paused when the daily budget is exhausted
Removing Negative Keywords
Negative keywords prevent your ads from showing up on certain words or phrases not relevant to your products. For example, if you do not sell mobile covers for Nokia phones and a prospect searched for "Nokia mobile covers", then you can use " " as your negative keyword to prevent your ads showing up for the said search term.
On Amazon ads, you can use negative keywords in Phrase and Exact Matches. Here is how these negative match types work:
Phrase Negative:
Your ads will be prevented from showing up on search queries that include a certain phrase, e.g. if you added "Nokia 3310" as your Phrase Negative then your ads would not show up on search terms like "Nokia 3310 mobile covers" or "mobile covers for Nokia 3310".
Exact Negative:
With exact negatives, your ads will not show up on certain words or phrases if typed exactly, e.g. if you added "covers mobile" as your Exact Negative then your ads would not show up if someone searched by exactly typing "covers mobile"
The extra level of control with negative keywords help reduce wastage of ad spend on your Amazon ads and improve your ACoS towards profitability.
Headline Search Ads, despite being keyword-targeted ads currently do not support negative keywords. The negative keywords cannot be used with product display ads as well because they are interest or product targeted ads.
How to Know Amazon PPC Campaigns Are Working?
Setting up and running Amazon PPC Ads is easy, most Amazon vendors can do it themselves or find an Amazon PPC Agency or consultant do it for them on a tight budget. However, it's easier to throw money down the drain on your Amazon PPC campaigns and not make enough sales or money out of it.
You are not going to be that Amazon Seller without vision. This guide is all about empowering you with know-how about "How to Make Money with Amazon PPC Ads" and this is probably your biggest takeaway from this guide.
What Is ACoS?
ACoS (Advertising Cost of Sales) is the most useful metric Amazon provides for Sellers like you running PPC Ads. You can check your ACoS anytime in AMS at the account, campaign, and keyword level. The standard formula used by Amazon is:
ACoS = (Ad spend / Sales) x 100;
Lower the percentage value, better it is.
Example:
If a campaign has generated $500 in sales with an ad spend of $150 over a certain period of time, then the ACoS = (125 / 500) x 100 = 25%. In other words, you're spending a dollar on ads to make four dollars of sales with that ad campaign.
What is a Good ACoS For Amazon PPC Campaigns?
Knowing what ACoS is good for your Amazon PPC campaigns is vital as you would know whether you are making money off these ads, breaking even or simply making a loss. In the example above, a 25% ACoS may look good, but it doesn't exactly tell you if you are making a profit, breaking even or making a loss.
This is because whether you are making money or not depends on your profit margin. What if your profit margin is only 20%? In that case, you are making a loss of 5% if at 25% ACoS.
Having said that, do you know the profit margins on your products? If yes, then simply see if your ACoS is lower than your profit margin and you will be making money off these ads on Amazon. Here is how to identify your profit margin and ideal ACoS:
Assuming your product costs 30% of the sale price, Amazon fee is 25% and taxes are 8%, you are left with a net profit margin of 37%. Therefore, your ACoS at 37% is your break-even point, anything higher than this would be in loss and anything lower would be in profit:
How to Reduce Amazon ACoS?
Now that you know what is ACoS and what should be the ideal ACoS for your Amazon PPC campaigns, let's understand how it can be optimized and reduced towards profitability.
What can cause ACoS Go high?
Bidding high to get most clicks
Targeting broad or unrelated keywords
Targeting unrelated products or categories
Targeting interests that do not precisely match your target audience
Poorly structured campaigns
Running only automatic campaigns
Not optimizing your campaigns to refine targeting
Not optimizing your product listings
Promoting product listings with poor ratings and reviews
Not using negative keywords
Using only broad match keywords
Make sure you are not making these mistakes if you run campaigns yourself. In case you have an agency partner managing your campaigns, ask if they are paying attention to all of the above.
How to Optimize PPC Campaigns To Reduce ACoS
Optimize bids to balance clicks and conversions.
Review your keyword selection, make sure you include relevant keywords only.
Target closely related products only, preferably the same product with a competing brand or seller.
Interest targeting is broad in nature, therefore test it out with a limited budget and expand on what's working.
Use a phrase or exact keyword match types preferably as they are more specific.
Use broad keywords only when a phrase or exact keywords do not have enough volume or when the campaign objective is to generate interest in your products.
Structure your campaigns for precision targeting with an effort to control bid and targeting of every keyword, instead of just dumping several keywords together in one campaign/ad group.
Start with an automatic campaign and optimize your way to manual campaigns instead of just running automatic campaigns.
Use negative keywords to exclude non-performing search terms, on a regular basis.
Optimize your product listings to build relevance and quality of content.
Push forward your best products for advertising, avoid advertising products with poor ratings/reviews.
Advertising Amazon Products on Facebook
As an Amazon Seller, advertising your products on Amazon is your best way to sell more products. However, Amazon advertising is fast becoming a very competitive landscape.
Competition is increasing for certain product categories which are driving the CPCs bids high. Therefore, exploring the following marketing channels can help market your products and brand more effectively.
Facebook is a massive platform where you could generate brand and product awareness fast cost-effectively very. Especially, when competition on Amazon is increasing fast and CPC estimates are going high for Amazon PPC Ads, advertising your Amazon listings on Facebook could lead to more sales, higher organic rankings and even some sizable edge over your competitors.
However, there are some disadvantages of advertising your Amazon as well and unless you are strategic about it, you could easily burn money on Facebook Ads without getting a positive return on your investment (ROI). More about this later, let's first look at how Facebook Ads could work well for you.
Advantages of Advertising your Amazon Products on Facebook
Access To A Larger Target Audience Base
Needless to say that Facebook is the largest social network today and chances are that you could find almost every prospect you wanted to target on this virtual social country. So if you go to market strategy is aggressive enough with a marketing budget to support it then advertising your Amazon products on Facebook will make great sense. Keep in mind though your target customers are on Facebook they're not looking specifically to buy your products so there is a fair bit of nurturing required to convert them into your customers.
Advantage Over Competing Sellers On Amazon
Majority of your competing sellers are only relying on Amazon organic listings or at best, Amazon PPC Ads to sell their products. You might just be the first mover to advertise your products on Amazon and provided it works well, you could sail ahead of your competitors.
Organic Rankings And Sales May Increase
Once you bring additional traffic to your product listings, this may result in increasing your organic rankings, more reviews as well sales.
Product Sales Cycle May Reduce
When you start selling on Amazon, especially when you have a new brand or product range, prospects may take time before shifting away from competing brands or products. As a result, you may see lesser sales and higher ACoS on your Amazon PPC campaigns.
Product Sales Cycle May Reduce
When you start selling on Amazon, especially when you have a new brand or product range, prospects may take time before shifting away from competing brands or products. As a result, you may see lesser sales and higher ACoS on your Amazon PPC campaigns. By Advertising on Facebook, you can fill this gap by introducing your products to the target Audience, educating them about the benefits and then moving them over to Amazon. This increased awareness may help convert more sales on your Amazon listings.
Facebook Ads Are Cost Effective
Certain products and categories have already become highly competitive and CPC bids estimates are skyrocketing. In case your products fall into this category then in comparison Facebook Ads may turn out to be much more cost effective.
Disadvantages of Advertising your Amazon Product on Facebook
Advertising your Amazon product listings on Facebook can turn out to be disastrous unless planned and executed well. Here are some things to be careful about:
Conversions Can't Be Tracked
Since there is no way to place conversion tracking pixels on Amazon (of course you can't on their website), the conversions can't be tracked. This may limit your ability to see how your Facebook traffic performs on Amazon listings.
Retargeting Isn't Possible
Likewise, the retargeting pixels can't be placed on your Amazon listing, store, add to cart or checkout pages, therefore retargeting ads can't be done on Facebook for your Amazon listings.
Facebook Traffic May Not Convert Directly Into Sales
Users on Facebook are not there to buy your product but to socialize with their friends and family. Therefore, no matter how well you run your Facebook Ads for Amazon listings, there are very little chance users will directly buy your products. Not exactly a disadvantage if you strategically plan your Facebook Ads strategy but yet good to remember to avoid disappointments.
Facebook Ads Strategy for Amazon Products
Advertising on Facebook needs a completely different strategy than Amazon. This is because on Amazon you have customers looking to buy products but on Facebook, your target audience isn't doing that. Instead, they are socializing, having fun conversations and connecting with their friends and family. So to get their attention, you got to be a bit disruptive with your Facebook Strategy (even before you think Facebook Ads).
Users are not directly going to buy your products if you just ran Amazon product Ads on Facebook. They are not your SQL "Sales Qualified Audience" yet but MQL "Marketing-Qualified Audience".
Therefore, the strategy should be to first, hook them up with your brand and products and then next, nurture them toward becoming your customer. How do we that?
Step 1: Build Your Presence & Engage
Create A Facebook Page:
That's the first step. You have to create your presence on Facebook with an impressive Facebook page for your brand and products.
Build A Community (Tribe):
Now that we have a presence, it's time to build a community your brand and products. and a fan following around your brand and products.
Introduce Your Products:
Although simply showing up your products is not enough and nobody gives a heck about it (remember, they are chilling out there on Facebook). However, that's still your first step. You need to show up with your brand and 'awesome' products.
Highlight Why Your Products Are Awesome:
You have to now show why your products are different, so great, better than others, and what added value your products deliver.
Run Facebook Page Likes Ads:
You might want to start with running some Facebook ads to increase likes on your Facebook page, in case you have created a new Facebook page or introduced new products. This will also help build a larger community/tribe around your brand/products.
Step 2: Create Your Sales Funnel
In order to generate MQL and then nurturing them in SQL, you would need a funnel. Here is what we suggest:
Facebook ads to announce products, highlight features, usages, benefits etc.
Landing page incurring audience to subscribe for coupon codes, exclusive deals new product launch etc.
Email Campaigns – Emailers with coupon codes, sale promotions, deals, new product launches etc.
Retargeting ads with coupon codes, deals, new product launches etc.
Amazon Listing – Sales qualified audience more likely to buy your products.
Step 3: Hook Them Up To Your Brand And Products
Run Video Ads:
Creating explainer videos around your brand and products and running video ads on Facebook will not only help engage your audience but also provide you an opportunity to create retargeting lists around video viewers.
Run Facebook Ads To Build An Opt-In List:
Having introduced your brand and products, it's time now time to build an opt-in list. Here are some recommended strategies:
How do you create exclusivity – by giving them value on Facebook that they won't otherwise get elsewhere? Think of exclusive discounts, promo codes, pre-launch announcements and more.
Think about a referral program that delivers some value to your prospects as well as to the prospects they refer to you.
Think about an affiliate program and recruit affiliates from your Facebook fan base. Affiliate programs have been a major growth driver for Amazon so there is no reason why you couldn't take a leaf out of their book and use it to your advantage.
Step 4: Nurture Your Audience Towards Sales
You have done all the hard work. You have an audience engaged with your brand and products. It's now time to nurture them to make the sale. But first, we have to be strategic about it and we need to create a sales funnel. A sales funnel will set the stage for nurturing your target audience on and driving them towards sales. Let's jump right into it:
Run Product Ads To Drive Sales:
Go ahead and create some ads linking to your products. Target your engaged audience who have:
Liked your Facebook Page and/or Posts
Watched Your Brand and/or Product Videos
Joined your referral program
Joined your affiliate program
Subscribed to your opt-in list
Create And Target Your LookALike (LAL) Audience:
You are now in a good position to create a LookALike audience as well, using your opt-in list, video viewers, referral program members, and affiliates. Go ahead and run your products to these audiences.
Conclusion
You did it. Yay! Having made it this far, you have armed yourself with more than sufficient information and understanding about Amazon PPC Advertising. You can get started, set up your Amazon PPC campaigns and optimize them to get the best possible ACoS.