Amazon Pay Per Click or PPC advertisements are an integral part of running a successful online business. As the name suggests, the "Pay Per Click" model functions in a way that when a customer clicks on your ad, you pay a certain fee to Amazon. It is useful in increasing the sales of your products.
The Amazon market is very fierce, so as a seller, you need to utilize this strategy to make yourself distinguishable. Read on to find out the features of Amazon PPC, its benefits, and the best Amazon PPC optimization tools that will help you achieve your business goals more quickly.
What is Amazon PPC Optimization
Amazon PPC optimization is the process of improving the quality of your advertisements. It can be done by regularly reviewing and updating your keywords list, optimizing product listings, adjusting bids according to campaign performance, and adding negative keywords to exclude unrelated search terms triggering your ad.
By optimizing your ad campaigns, you will generate more revenue due to increased sales. Your improved performance will result in more clicks and conversions. It will also increase your ROI, spend less and rank better.
Features of an Amazon PPC Optimization Tool
Every Amazon PPC tool must have all or some of the following features.
Audit
Automation
Keyword research
Inventory management
Data metrics
Bid management
Conversion tracker
Analysis
Campaign optimization
Customer support
Benefits of using Amazon PPC Optimization Software
Opting for Amazon PPC management software can make your life so much easier. Here are a few reasons why implementing these tools will benefit you.
Automate campaigns:
An Amazon PPC tool runs ads automatically. Instead of spending time manually going through each campaign, the tool will operate without needing constant assistance.
Escalate the profits:
By running PPC ads to promote your brand or product, you can effectively advertise it to a larger audience. Due to this, you will receive increased views and conversions, which results in a higher overall sales volume.
Customized keyword list for accuracy:
While running ads manually, keywords are suggested based on the most popular search terms. With PPC tools, you can customize the keywords and target more customers so your ad is triggered according to the keyword match type that you choose.
Track performance:
It is easier to track and monitor your reports, and as a result, you can reduce the ACoS. With a decrease in the ACoS, you will be spending less money on your advertisements.
Dayparting:
It refers to a strategy where time is allocated during the day or week to automatically schedule your campaigns and reach a specific target audience without spending extra money.
Efficient budget allocation:
You will only be spending the amount you have set for a particular campaign. Once the limit has been reached, the campaign will stop running and it won't exhaust your total budget.
Time management:
Monitoring your PPC campaigns manually is extremely time-consuming. Using an optimization tool allows you to save time.
No mistakes:
If you are conducting your campaigns manually, you are bound to make mistakes. Hence, you can avoid committing errors with the help of AI-run software.
Top Amazon PPC Optimization Tools
Since there are so many tools available in the market today, it can get quite difficult to know which one is worth your time and money. If you are wondering what the best Amazon PPC tools are, we'll make it easier for you to make a decision. Here is a list of the 15 top Amazon PPC tools –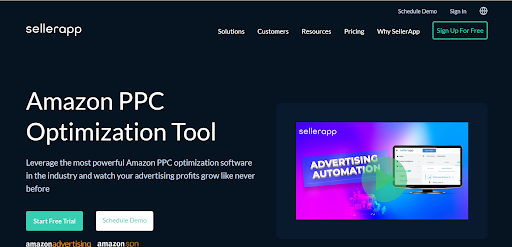 SellerApp is the most renowned brand when it comes to Amazon advertising. It has all the resources needed to make your business profitable and ensure successful results. Established in 2017, the company has achieved remarkable credibility to date.
They have a proven track record of managing over 50 thousand Amazon campaigns, generating more than 200 million worth of revenue, analyzing 335+ million products, and over 10 billion ad spend. It is a great option for both small and big business owners to scale up.
Their Amazon PPC optimization tool is an all-in-one solution that provides multiple features like automation, dayparting, algorithmic bidding, keyword and ASIN targeting, product optimization, keyword harvesting, budget management, negative keyword optimization, and more.
When it comes to pricing, they have three plans available.
The first is Freemium, and as the name suggests, it's a free version. Since it is an unpaid plan, there is a limit to the number of times the feature can be used. You are only allowed 10 searches a day. It gets renewed again the next day. And your data will expire after 60 days.
The Pro Lite plan starts at $49 a month. This is a basic-level plan where you have complete access to all the features. The data is retained for a lifetime.
The Professional plan starts at $99 a month. It's the advanced version and the features are the same as Pro Lite but this has a bigger upper limit. In this too, you have lifetime access to the data.
They offer a free 7-day trial for the paid plans.
They work with brands like Philips, Teeccino, Coca-Cola, Arcatron Mobility, Samsung, Cardology, Tag-e-Nuff, Sattviko, and more. SellerApp has also won the Tech Innovator of the Year Award, and Amazon Ads Advanced Partner award.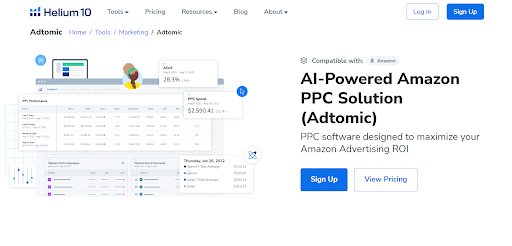 Helium 10 is another company that is an expert in managing Amazon advertising. They have 30 tools that make sellers' lives easier. Their software Atomic is an all-in-one PPC tool that covers every aspect of ad management. The features include bidding, automation, keyword tracker, campaign optimization, insights, inventory management, and campaign templates.
They have 5 pricing plans –
Free
Starter – $29
Platinum – $84
Diamond – $209
Custom
The software is best suited for large enterprises as the pricing is not beginner friendly. They have a free plan with a limit of uses per day.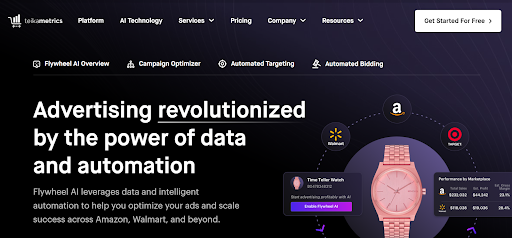 Teikametrics is another company that provides Amazon PPC optimization tools. Their AI-powered software Flywheel helps in growing your business. It has various features like automated keyword and product targeting, campaign optimizer, and automated bidding. Their annual optimized ad spend is over 1 billion dollars.
They have worked with brands like Conair, Elf, Nutribullet, Swanson, Timberland, Nutrafol, Clarks, and more.
They provide2 plans for sellers to choose from –
The Basic plan, which is completely Free
The AI-powered plan. Here, if your ad spends is less than 10 thousand dollars per month, it is free. If it is more than 10 thousand dollars per month, you will have to pay 3% of your ad spend.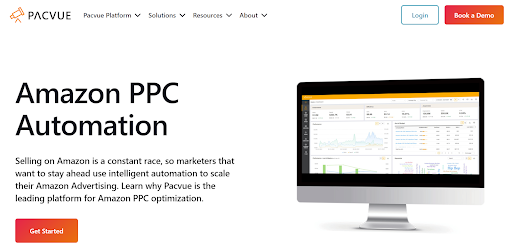 Pacvue is a complete software solution that combines retail data with suggested tools and actions. It provides an eCommerce market advertising solution that enables sellers to optimize their ads and scale their business. Their tool includes features such as keyword research, category intelligence, AI optimization, budget pacing, bidding, and event tracking. They have worked with brands like Johnson & Johnson, Duracell, Henkel, Unilever, Bissel, and Keurig.
You can contact them if you want to know more about their pricing details.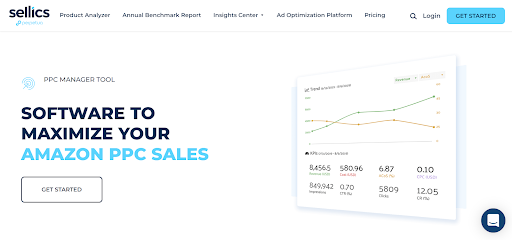 Sellics is an Amazon advertising company that provides multiple tools for you to manage your ad campaigns. Their goal is to help sellers optimize PPC ads, make the process easier, and save time.
You can improve ACoS by selecting customized goals for your business. With Sellics, you can automate your campaigns and optimize bids to help you get ahead of your competitors. The Benchmark tool provides a free annual report on the performance of your ad campaigns.
They have 4 pricing options-
The Starter plan at $250 per month.
The Growth plan at $550 per month.
The Pro plan is at $550 + a percentage of your total ad spend per month.
Custom pricing.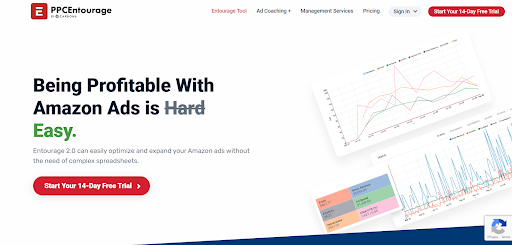 PPC Entourage is an Amazon solution that enables sellers to grow their business on Amazon and get the desired results. The Entourage 2.0 tool makes it easy for sellers to optimize and manage their advertisements. The tool includes the following features automated advertising, keyword harvesting, and PPC bulk optimization.
Their pricing includes paying 2.9% of your monthly ad spend. For instance, if your monthly ad spend is $700, then you will have to pay $20.30 per month.
PPC scope is an Amazon PPC management and optimization software. It is the most affordable software available in the market. PPC Scope comes with optimization filters that are beginner friendly. It is compatible with 7 Amazon marketplaces. Get access to an all-in-one dashboard that provides your reports in one place. They have an excellent support team.
They provide a 14-day free trial. Their packages are as follows –
Mini plan for new sellers at $19.99 per month.
Small plan for growing sellers at $44.99 per month.
Medium plan for international sellers at $64.99 per month.
Large plan for kickass sellers at $84.99 per month.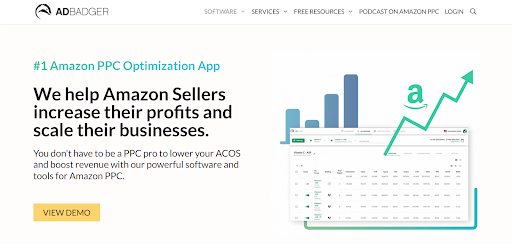 Ad Badger helps sellers lower their ACoS by optimizing their advertisements. Their Amazon PPC optimization tool works to improve your traffic with automation and customization of your campaigns. It is designed for small businesses and is new user friendly.
The software contains features like bid optimizer, negative keyword optimizer, negative keyword finder, positive keyword tool, and account navigator tool.
They have collaborated with brands like Rmdy, Woodies, Freshfield Naturals, Rocketbook, and more. The pricing details have not been provided, and hence you need to contact the team if you are interested in knowing more.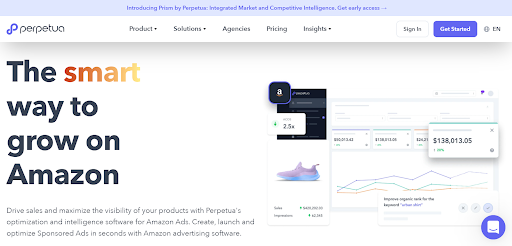 Perpetua helps to drive traffic and sales to customers' product listings. It is an intelligent software that will accelerate your growth on Amazon. Its features include keyword boosters, automated bidding, bid optimization, display advertising, and market intelligence reporting. Their clients are Huggies, Cartograph, Crocs, Four Sigmatic, Kleenex, Hero cosmetics, and more.
They have 4 pricing options-
The Starter plan at $250 per month.
The Growth plan at $550 per month.
The Pro plan is at $550 + a percentage of your total ad spend per month.
Custom pricing.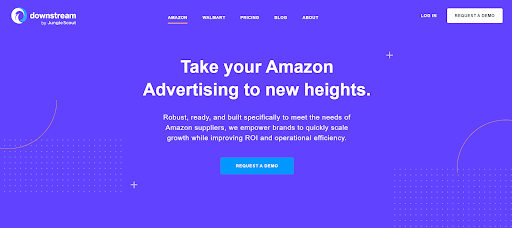 The downstream impact has been acquired by JungleScout, and it is now a part of it. It is an eCommerce advertising solution that aims to help sellers reach their goals and targets, and scale their business on Amazon. The AI reads your data and metrics and provides you with actionable information. Some of their features include bulk editing, keyword harvesting, shelf intelligence, product ranking, history, data storage, and many more. They have worked with big brands like HP, Liberty, Mutesix, and more.
There is no information on their pricing details, so if you want to learn more, you need to reach out to them.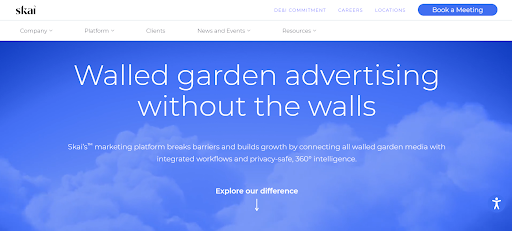 Previously known as Kenshoo, Skai was rebranded in 2021. It is an omnichannel advertising company that helps sellers get data intelligence and scale up their business. They aim to enable brands to get insights and manage and monitor their ad campaigns.
Its features include creating campaigns, keyword targeting, and bid optimization. Their clients are Rakuten. Camelot, Forwardpmx, Domain, Inova, Strocko, Bright, and more.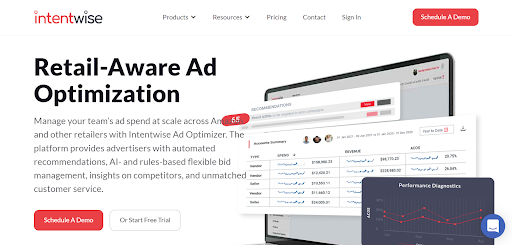 Unlike other companies mentioned above, Intentwise is exclusively made for large enterprises, professional advertisers, and high-volume agencies present on Amazon.
Their features include keyword targeting, bid management, competitive intelligence, and performance analysis. Their clients are Learning Resources, PetSafe, WAHL, CleverMade, CoreCentric, Revitalash cosmetics, and more.
They have tier-based plans and their pricing starts from $500.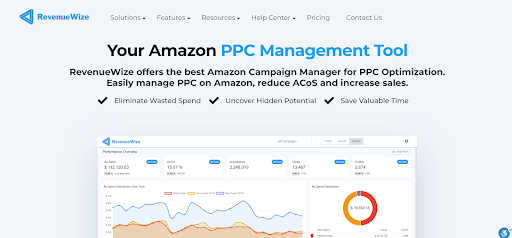 It is an Amazon PPC optimization tool that aims to reduce waste spending and save sellers time. With their software, you can get bid recommendations, complete control over ads, and access performance reports. Their features include ad spend analysis, campaign optimization, bid recommendations, keyword tool, and impression boosting.
They provide three pricing options like
Advanced plan – $119 per month.
Professional plan – $199 per month.
Expert plan – $299 per month.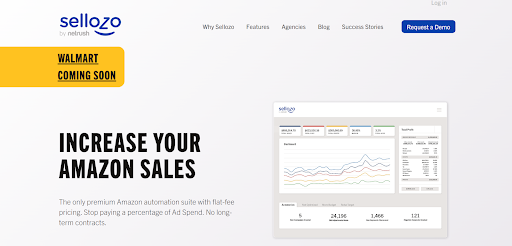 With Sellozo, you do not have to pay a percentage of your ad spend. With the help of its AI algorithm, Amazon sellers can increase sales, reduce ACoS, automate campaign optimization, and increase sales.
The features include automation, keyword discovery, inventory tracking, automated repricing, fee analysis, and customized templates. Their clients are Ruffwear, Gnarly, Vibrant Health, Nutrex, Keen, and many more.
Their pricing ranges from $149, $299, and $399.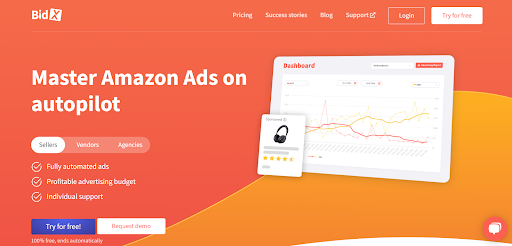 Fully automate your Amazon advertising by using the BidX software. Their machine-learning algorithm analyzes your ad performance. This helps sellers save time and focus on other important aspects of advertising. Their software includes features like campaign creation, campaign optimization, performance evaluation, and individual support.
They have three pricing plans that are –
The Starter plan at $149
The Advanced plan at $298
The Professional plan at $448
Conclusion:
To run a successful business on Amazon, you need to look for the best PPC optimization tools that offer a wide range of features, automate campaigns, and provide helpful customer support. Keep in mind that keywords are the most important aspect of a PPC advertisement. By selecting the relevant keywords, you can skyrocket your business. The right PPC tool will help grow your brand and increase sales.
We hope this guide has provided you with enough information to choose the most suitable tool for your business. The software you opt for will contribute to cutting down unnecessary spending and time.
FAQs:
1. How to find keywords for Amazon PPC?
You can find relevant keywords for Amazon PPC by doing keyword research using some popular keyword research tools like SellerApp, Sonar, JungleScout, Helium 10, etc.
2. What is Amazon PPC management?
Amazon PPC management is the process of overseeing all advertising activities like running, tracking, and optimizing the performance of each campaign.
3. How does Amazon PPC work?
It works on the Pay-Per-Click model, where the advertiser pays the fee only when a user clicks on his advertisement.
4. What are the three types of Amazon PPC ads?
The three types of Amazon PPC ads are Sponsored Products, Sponsored Brands, and Sponsored Display ads.
5. What is PPC management software?
Amazon PPC software helps in making the process quicker and more efficient with automation. It helps in tracking, optimizing, and managing ad performance. It has features like keyword research, bid optimization, automation, a campaign tracker, and insights.
6. What skills are required for Amazon PPC?
The skills required for Amazon PPC are technical, analytical, copywriting, design, statistics, communication, eCommerce, and creative planning.
7. Is using optimization tools for my campaign a good idea?
Yes. PPC optimization tools help in making your job easier with automation.
8. Will my data remain safe after connecting the tools to my advertising account?
Yes, your data will be safe but make sure the tool you are using is an Amazon-certified partner.
9. Do these tools analyze data in real-time?
Yes. Save time by using these tools because the data is analyzed in real-time.