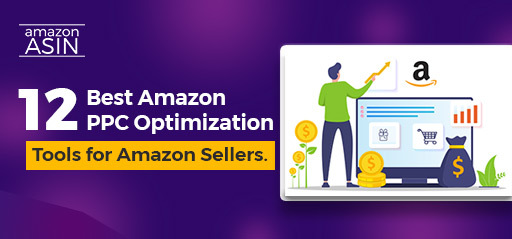 12 Best Amazon PPC Optimization Tools for Sellers 
Amazon PPC, as it says, is a pay-per-click model. 3rd party sellers on the Amazon platform optimize the PPC campaigns for more profits. Once the customer clicks on your ad, you pay a certain fee to Amazon. Amazon PPC optimization is a great way to increase your profits in the competitive market of e-commerce.
With over 1000 new sellers registering every day on Amazon, you have to stay ahead of the game to capitalize on the Immense market demand that is there now. To get the maximum out of managing a PPC campaign, you should get to know how it functions.
How does Amazon PPC Work?
Amazon PPC campaigns help you optimize your visibility to the best customers on Amazon. The PPC feature allows you to choose the right keywords that you need to include in your product campaigns. If a product campaign is well-maintained and assessed from time to time, it will improve the organic ranking and create more sales opportunities.
To win the keywords, a seller has to bid on the keywords. The highest bidder has to pay only a fraction more than the second-highest bid to secure the keyword.
Once the seller starts using the keywords in their campaigns, the products will get more clicks and conversions. PPC campaigns can be reset according to the relevant keywords. Doing a regular check on the ad campaign will show you which keyword performs the most.
You can also set negative keywords to increase relevance in your search. Once this is measured, you can move on to decrease your ACOS.
Is it possible to manage the complete Amazon PPC optimization in one place? Yes! Amazon PPC optimization tools can come in handy when you want to manage your ad costs and make profits. Let us now look at the 12 best tools available in the industry to help you reach your business goals sooner.
1. SellerApp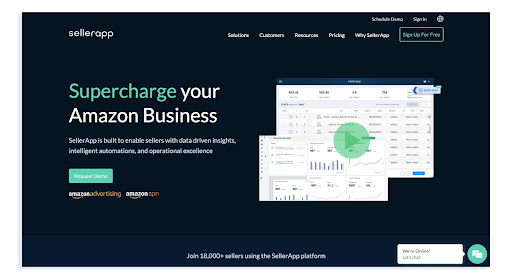 SellerApp is an industry leader with top-class Amazon PPC optimization features. It is an all-in-one tool that helps reach the perfect Acos target. The PPC software for amazon gives you the best keyword optimization strategies and bids on top searched keywords.
SellerApp takes your business automation to the next level by providing detailed insights. All of the features in SellerApp commit to getting you that top ad spot that you have been aiming for.
The process begins with SellerApp assessing your campaigns by connecting with your Amazon account. Once this step is completed, your assigned success manager will audit your campaigns and design a plan to meet your growth targets.
Then the SellerApp automation kicks in. It readjusts your ad campaigns by automating your keyword bids. The "Money saver" and the "ROI Optimizer" are two rules which help you. Once you select the maximum target Acos in the "ROI optimizer" the algorithm will then search potential keywords and then change bids accordingly.
Along with the best Amazon PPC management tools, your brand will receive the industry's best e-commerce success team supporting your progress every step of the way.
Here are SellerApp's salient features
Amazon PPC Analyzer
Amazon Keyword Research
Product Research
Product Listing
Amazon Seller Analytics
Competitor Lookup
Amazon Product Alerts
Listing Quality
SellerApp offers sellers an extensive array of choices. Each choice of subscription has its value. The Freemium solution provides free data insight for Amazon sellers. Sellers can have an in-depth understanding of all the features that make SellerApp the top Amazon PPC automation software at zero cost. Get data like CPC, Indexing, and search volume for up to 10 keyword searches on Freemium.
Take a peek at your competitor's keywords with the help of "Reverse Asin" and see what needs to be included in your backend search terms. Freemium also features a Keyword Tracker. Here you can track up to 5 keywords for 2 separate ASINs. Try SellerApp for free here.
2. Pacvue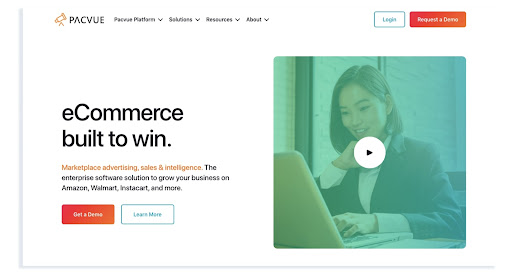 Pacvue offers retail campaigns in marketing for multiple marketplaces. It upholds omnichannel market integration as one of its unique propositions. The features allow sellers to manage budgets mid-campaign and automatically increase bids on those keywords that perform better.
Another feature is the timely reports that you can customize. Tracking campaigns and Acos becomes simple with this approach. The digital shelf optimization feature makes sure that the seller has the best content, inventory availability, visibility, and pricing.
You can request a free demo here.
3. Teikametrics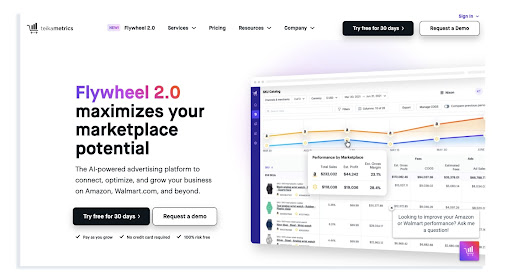 Teikametrics helps sellers automate keyword recognition, campaigns, and bidding with the help of their Flywheel 2.0 project. It features an AI-driven model to integrate data. The brand performance matrix by Teikametrics helps you understand your brand's competition.
With the assistance of their PPC management, you can boost your company's sales on Amazon. It gives you a suitable solution depending on the type of business you run. Teikametrics aims to provide you with complete control and valuable data by increasing the clarity of all data integrated processes.
Teikametrics has a 30-day trial policy where you can have a feel for its PPC tools. Try it for free here.
4. Sellics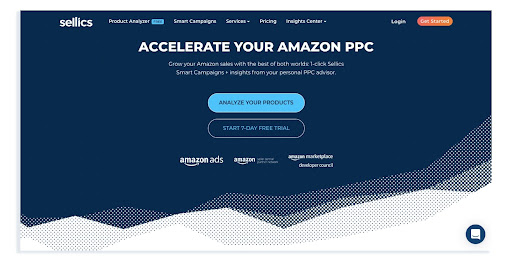 Sellics audits your PPC strength to give you more leverage in the e-commerce industry. With the help of automation, you can now grow exponentially with 1-click campaigns with Sellics. The software allows you to be flexible with your goals and perform accordingly.
Sellics assigns you your very own PPC expert to assist you every month about progress with your different campaigns. If you are a beginner in PPC, there will be coaching sessions in PPC which will provide you with critical information for your business strategy. Sellics helps you with timely intervention to adjust your campaign settings and re-work important keywords concerning the latest data.
Sellics has a free DIY tool for Amazon sellers. It offers Sellics Smart campaigns including a monthly call with an advertising expert for $249/mo (On a yearly subscription basis). The complete managed services will cost you $1249/mo when you decide on a 12-month service. Try Sellics free here.
5. PPC Ninja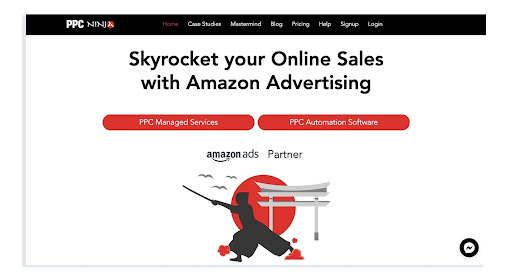 PPC Ninja empowers you to take control of every step involved in Amazon PPC optimization. It is one of the most user-friendly Amazon PPC software currently available in the industry. PPC Ninja helps you discover new trending keywords. This enables you to find that top spot for your ad.
PPC Ninja also gives you a great insight into daily bid recommendations. PPC Ninja helps you manage your ACoS by finding keywords that are not bringing in more impressions or clicks. It also provides multi-user support. With over 10 years of experience in the Amazon e-commerce industry, PPC Ninja is one of the best Amazon PPC software to help you scale your business.
PPC Ninja provides you with a choice to go with a completely managed approach. To set up PPC campaigns under five different ASINs will cost you $1500/mo. For up to ten ASINs and more than ten ASINs, the fee would be $2500/mo and $2500/mo + 5% AdSpend. PPC Ninja provides you with a 14-day trial period to experience the software. Try it here.
6. Skai-Kenshoo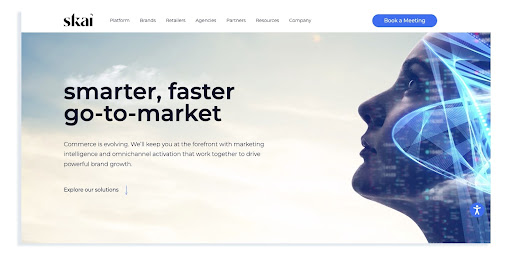 Skai runs an automated keyword harvester to keep you updated with the latest trending keywords. Skai's algorithm helps you make the best marketing investments. It automates your bids according to your budgets to help make the most ROI for your product.
The analytics help you determine your ACoS and focus on how the numbers can improve by reiterating and implementing new strategies. Skai is a market leader and is one of the best Amazon PPC automation software. Skai will guide your campaigns with the latest data on consumer sentiment, market patterns, and competition.
Unlike other PPC optimization software, Skai does not have a free trial period.
7. PPC Entourage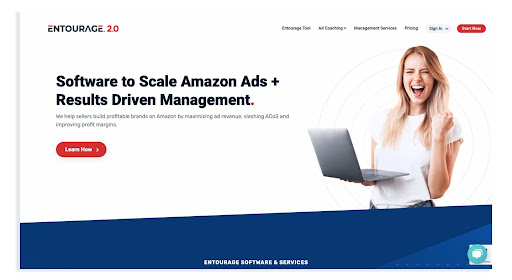 PPC Entourage is one of the best PPC tools for Amazon. It helps you audit and optimizes the current campaigns that run in your Amazon professional account. PPC Entourage expertise in all types of Amazon ads.
They offer close monitoring of all your existing Amazon campaigns with the help of a personal account manager. It gives you the opportunity for timely intervention to focus your campaigns on seasonal sales. PPC Entourage also provides assistance in updating the latest keywords to your ongoing campaigns and aligning them to the latest search trends.
With PPC Entourage, you can optimize bids, keywords, and your budgets to extract the best possible results. You can control multiple seller accounts under a single login of PPC Entourage.
PPC Entourage has a different pricing strategy. Per $1000 of your ad spend per month, you would have to pay a fee of $29. The fee increases according to your monthly ad spend. Try PPC Entourage for free here.
8. Prestozon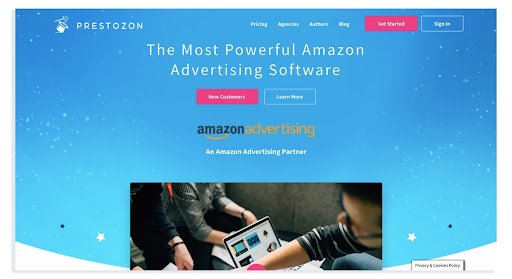 Prestozon is a top Amazon PPC management software that helps you to keep on top of the keywords relevant to your categories. It was acquired by helium10 in October 2020. With the help of everyday tracking of keywords, bids, customer data, and analytics, Prestozon provides you with a unique form of account management.
The analytics uses precious bid history to collect insightful data on how a keyword has performed for that particular bid. Prestozon then provides custom recommendations that can be followed to manage your Acos. Prestozon also endorses a one-click product setup.
With the help of the one-click campaign setup, you can now structure campaigns without any roadblocks. The automation assistance that Prestozon provides you with will help you go through keywords that will help you turn your campaigns profitable.
Prestozon Provides three different pricing categories. It is the Core, Pro, and Agency+Enterprise models. The Core charges $50 per month for every $5000 to $10000 ad spend. The Pro charges $100-$150 per month for $5000-$10000 ad spend. The Agency + Enterprise package starts at $500 per month. Try it for free here.
9. SellerLabs.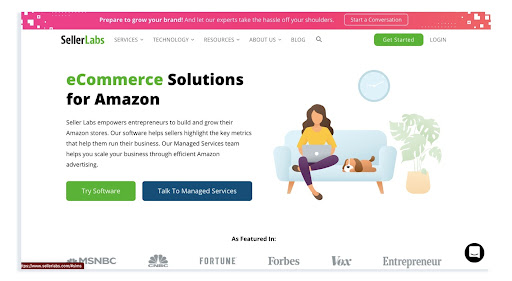 Sellerlabs provides the best Amazon PPC optimization tools. To give you the best results, Sellerlabs relies on real-time data-driven mechanics. With the close assistance of SellerLabs, you can now decrease your advertising cost of sale. Optimize the right keywords to drive traffic to your product pages.
SellerLabs provides biweekly calls to help you create the traction that you need to make your product pages more visible to Amazon customers. SellerLabs feature the best Amazon PPC management tools and experts to lead you every step of the way. It focuses on timely product and category targeting to push your product pages to the top of the Amazon category search results.
SellerLabs gives the best support for your progress on Amazon as a third-party seller. SellerLabs provides a flexible pricing scheme according to your sales figures. For up to $50,000 in sales, SellerLabs charges $49 per month and $39 when subscribing every month. This plan only has chat support. Try SellerLabs here.
10. AdBadger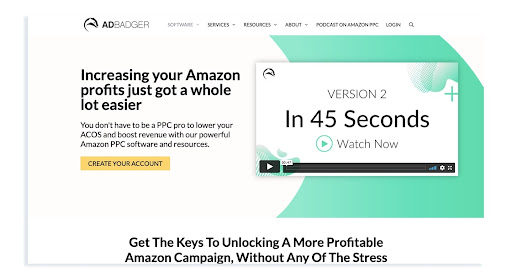 AdBadger supports sellers with the latest PPC tools for Amazon. It offers a conversion-based bidding optimization to manage your Acos. The software uses automated negative keyword research to help you get the clicks of your potential amazon customers. AdBadger uses positive keyword optimization every week to reassess the upcoming search trends for maximum product exposure.
Highly focused keyword mining is also used to help your campaigns stay one step ahead of your competitors. AdBadger also provides the service of campaign audit to help your business scale to its maximum potential. With regular campaign structure checks, AdBadger helps you understand the necessary changes to be made.
The Amazon PPC management by AdBadger is priced at $975 and 7% of ad spend. If you are looking for top Amazon PPC coaching, it is available at $2,250/mo. Explore AdBadger here.
11. Quartile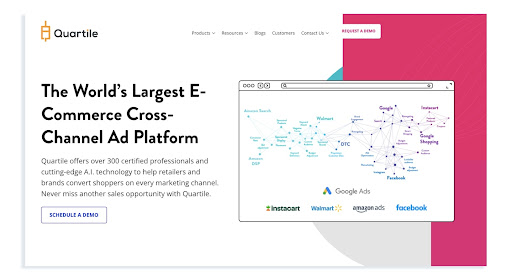 Quartile makes managing your Amazon PPC campaigns easy. It features top Amazon PPC automation software to take your campaigns to new heights. You can now say goodbye to manually configuring your ad campaigns. Quartile with its artificial intelligence-driven platform aims to empower you with the latest data on keywords.
To make things easier, a dedicated account executive will guide you through the processes. A quartile is one of the best Amazon PPC optimization tools to help manage Acos. Founded in 2018, Quartile has thousands of customers around the world who use its proprietary AI technology to drive more profits.
You can request a demo with quartile here to see if it suits your Amazon goals.
12. Bidx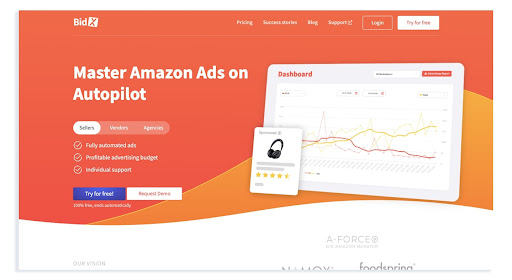 Bidx makes the entire process of Amazon PPC easier by automating the research of relevant keywords. You can now easily set up an Amazon PPC campaign with just a few clicks. Once the campaigns are created, all you have to do is focus on your core business strategies. The algorithm automatically adds and removes performing and non-performing keywords to increase your ad profitability.
BidX has an extremely user-friendly dashboard to help you keep an eye on campaign performance. They also offer expert support where you can compare and strategize the right amount of changes to be made to the campaigns. The assistance can be accessed through chat, phone, or email. BidX is also an official partner with Amazon as a member of Amazon SPN (Solution Provider Network).
BidX offers programs for sellers starting from 149 Euros all the way up to 3500 Euros for a completely managed account. You can try a 14 day period with BidX here.
Amazon PPC or Amazon SEO?
Amazon search engine optimization and Amazon PPC are the two cornerstones on which every single Amazon advertising attempt should be built.
If you want to boost your earnings and grow your Amazon business, search engine optimization and Amazon PPC are the best places to start. Is one, however, much superior to the other? What exactly is the difference? Should you start from the beginning?
In the following section, we'll look at what Amazon search engine optimization and Amazon PPC have in common, as well as how they differ. Let us find out how each of these elements adds value to your Amazon ad campaigns.
How is Amazon PPC and Amazon SEO different?
The goal of Amazon SEO is to increase product visibility by optimizing listings. Amazon SEO increases the organic ranking as well as the sales performance of product listings by containing all relevant keywords and adding content that positively affects click-through and conversion rate.
Ad campaigns are used by Amazon PPC to attract more customers to your product listing. The following is how it works: You place a bid on relevant keywords for your product listing. When a consumer searches for that term or related keywords, your ad will appear in the search results or on the product page, highlighted. Regular optimization efforts, such as CPC modifications, are required for successful campaigns.
What are the benefits of Amazon PPC and Amazon SEO?
The main advantage of Amazon SEO is that it is free, and the product appears in search results if search terms and keywords on the product listing are an exact match.
Depending on how high the bids on specific keywords are, Amazon PPC has the advantage of increasing awareness and sales, very quickly, sometimes even instantly. As a result, the effects of PPC advertisements may be monitored right away.
Can both Amazon PPC and Amazon SEO be used together?
Both Amazon SEO and Amazon PPC are powerful marketing tactics for boosting sales on Amazon. However, when these tactics are used together, their effects might be boosted much further. Because of the close association between Amazon SEO and Amazon PPC, you should mix the two rather than choose one or the other.
If you need to pick a starting point, we recommend starting with Amazon SEO first, as keyword and listing optimization are both necessary for effective PPC campaigns.
How does Amazon PPC and Amazon SEO work complementary?
On Amazon, ad placement is determined by relevance. That is, Amazon will only display your PPC campaign if it is related to a customer's search phrase. As a result, PPC advertising can only be successful if a product listing has been optimized for relevant keywords utilizing Amazon SEO.
Increased sales are the desired objective of every PPC campaign. Customers who click on a product page and convert to buyers are said to have made a sale. What factors aid in increasing CTR and CR? Amazon Search Engine Optimization (SEO).
The organic ranking of a product is directly influenced by sales. As a result, more sales produced through PPC ads will improve a product's organic rating.
This influence is particularly relevant when it comes to new items. New items typically lack a sales history and, as a result, performance data, which hurts organic ranking. This can be changed using Amazon PPC, which drives traffic to the product listing and so increases sales.
Final Thoughts
Amazon PPC provides you with the opportunity to increase your overall profitability. You can research keywords that are relevant to your products and add them to your bids. These keywords can be an exact match, broad match, or phrase match. If you take the help of an Amazon PPC tool, you can automate the process of readjusting your campaigns and easily manage the Acos of your Amazon business.
The key to success on Amazon is not to choose either Amazon PPC or Amazon SEO. Both are correlated and add immense value to each other. Treating Amazon as a tech playground and trying new combinations is the best way to channel your own innovative success.