The Amazon Demand Side Platform is a powerful tool for anyone who wants to advertise on Amazon. It allows you to target specific customers and make sure that your ad appears before them when they're browsing products on the site. The goal of this guide is to help you understand what Amazon DSP is, why it's useful, and how you can use it successfully in your own marketing campaigns.
Quick Guide:
What is Amazon DSP?
The Amazon DSP is a demand-side platform (DSP), which means it allows advertisers to purchase ad space on behalf of their own customers. It's also known as an "ad exchange," because it allows advertisers to bid on ads and publishers to sell their inventory in real time.
Demand Side Platform works like other ad exchanges: buyers bid on certain types of traffic, such as brand-new visitors or high-value customers sellers list their available impressions for sale at different prices; the highest bidder wins each impression and pays for it through an automated system that matches buyers with sellers based on criteria like price, location, time of day and device type all without any human intervention!
Demand Side Platform is an ad exchange that allows advertisers to buy and sell ads in real-time, like other digital ad exchanges. However, it also has some unique features that make it stand out from the crowd. All impressions are guaranteed they won't be wasted by getting filtered out or auto-scraped.
Amazon Demand Side Platform customers can use their own data to create custom audiences. It offers a built-in fraud protection system that prevents ad fraud from occurring on your ads.
The Benefits of Amazon DSP
Amazon DSP is the ad platform that allows you to create and run advertising campaigns on Amazon. It's an advanced, self-service tool that helps brands leverage their existing data and optimize their performance.
With Demand Side Platform, you can:
Create ads based on customer interests, demographics, and device type;
Target customers based on location (including zip code), time of day, and device type;
Improve ad performance by analyzing historical data from past campaigns;
Receive real-time reporting so you know exactly how much each campaign costs per click or impression
To get started, you'll need to connect your Amazon Seller Central account with Amazon Demand Side Platform. Once you've done this, Amazon DSP can pull in your existing customer data so that you can start creating campaigns right away.
Here's how to connect Amazon Demand Side Platform with your Amazon Seller Central account: Go to the 'Settings' tab in your Seller Central account. Click on the 'Advertising' option under 'Account Settings.' Click on the 'Connect an Amazon Ad Platform' button. Choose which type of ad platform you want to connect to and click on Continue.
Select the option to connect your DSP account. Enter your DSP credentials and click on Continue.
How to Get Started With the Amazon DSP
Sign up for an account.
Create a campaign.
Create ad sets, which are groups of ads that share similar targeting and bidding strategies.
Create ads within each ad set, which can be either display or video ads depending on what type you're creating (more on that later).
Create a budget and set it to "automatic." This will allow Amazon to automatically optimize for the best possible results based on your campaign goals. You can also set your campaigns to manual optimization if you want more control over how they're managed. Create one or more audiences. These are groups of people who have expressed interest in what you're selling by either visiting your website or liking one of your pages.
This is an important step because it allows you to target your ads toward people who are likely to be interested in what you're offering. For example, if you're selling a product for cats, it wouldn't make sense to target dog owners with that ad.
Create an ad set. These are collections of ads that share similar targeting and bidding strategies. For example, if you're running a campaign for cat toys, you may want to create one ad set for people who have visited your website and another for people who like your Facebook page (or vice versa).
Create one or more ads. These are the actual messages that will appear in people's News Feeds and on their timelines. You can choose from several different types of ads, including video, carousel, app installs, and mobile website clicks.
How to Create Ads With Amazon DSP
Select "Ads" from the left menu.
Click on "Create new ad."
Choose the sort of campaign you wish to launch. (e.g., search network), then click "Next step."
Select what type of ad you want: text, image, or dynamic display ads (DDA). You can also choose whether or not this is a Demand Side Platform ad by checking off the box next to "Amazon DSP Ads Only" before clicking on "Save & Continue."
Next, you'll need to select the ad format. You have the option of running a text ad or a display ad.
If you're creating a display ad, you'll need to choose between an image or video. You can also choose whether or not this is an DSP ad by checking off the box next to "Amazon DSP Ads Only" before clicking on "Save & Continue."Next, you'll need to select your targeting options.
Next, you'll need to add a headline and description for your ad. You can write up to 80 characters for the headline and 250 characters for the body of the text.
Geo-Targeting: This allows you to target specific locations or regions within the United States. You can select from a predetermined list of areas, such as New York City or Los Angeles County. Or, if you want more specific control over where your ads show up, you can enter custom coordinates for a location.
Ad Types and Campaigns on the Amazon DSP
There are a variety of different types of ads and campaigns that you can run on the Amazon Demand Side Platform.
Display Ads: These are banner ads that appear at the top or bottom of your web page. They're great for catching people's attention when they're not actively searching for something on your site, but they can be distracting if used too frequently.
Video Ads: Video ads are like display ads, except they play video clips instead of images. They're often used in conjunction with other types of content (like product information), so viewers don't feel like they're being sold directly by an advertiser without context or explanation first!
Mobile Ads: Mobile apps make up more than half of all app downloads worldwide and this number is only going up! If you have an app available through either Google Play Store or Apple App Store, then it makes sense for advertisers like Amazon DSP who want access to as many potential customers as possible through multiple channels including mobile devices like smartphones/tablets which require smaller file sizes than PC browsers do).
Create a campaign with the Amazon DSP
To get started, you'll first need to create an ad. To do this, go to the DSP dashboard and select "Create New Ad". You'll then be presented with options for your campaign settings:
Targeting Type:
This refers to who you want your ads shown to; you can choose between Custom Audiences or Lookalike Audiences (more on these below).
Reach Percentage:
Selecting a percentage will allow you to define how much of the total audience should see your ad. For example, if 1% of shoppers visit websites where they see ads from Amazon partners (including us!), we show them 100% of our impressions (or 1%). If we selected 10% reach instead of 100%, then only 10% will see our ads on those sites 90% go elsewhere!
This is a great way to control your ad spend and make sure you're getting the most out of every dollar spent on Amazon. We recommend setting this at 10% or less unless you're specifically trying to build brand awareness.
Show Your Ads On: This refers to what type of websites your ads will appear on. You can choose between "All Websites" (which includes all sites that participate in Amazon's ad network) or "Sites with Prime Members". The former allows for more reach, but may also include sites where shoppers are not as likely to purchase from us (e.g. Walmart). The latter will reduce your reach but only show on sites where shoppers are likely to buy from us (e.g. Amazon). You can also choose "Sites with Prime Members" AND "All Websites", which is what we recommend for first-time advertisers.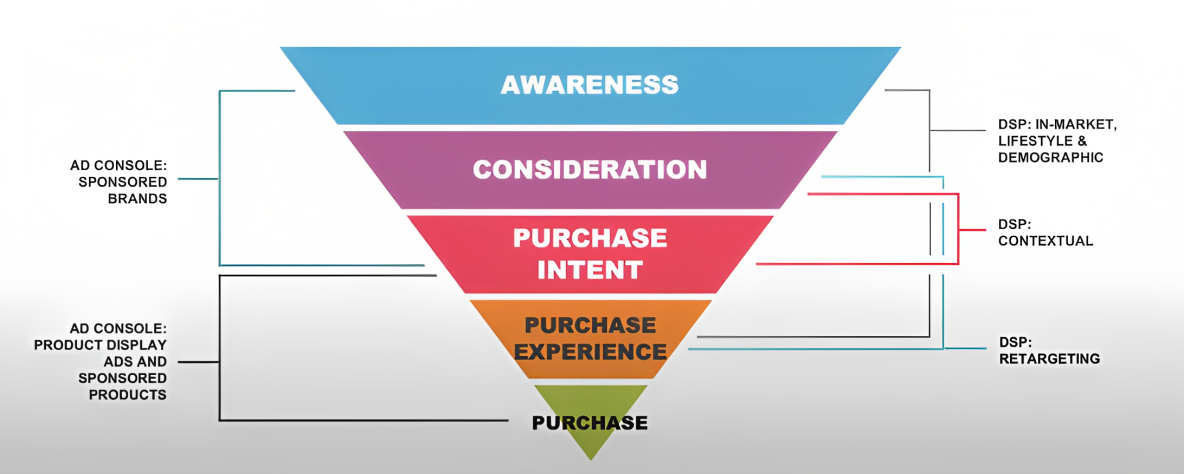 Audience:
Behavioral audiences leverage past shopping behaviors within relevant categories to deliver ads to potentially interested shoppers.
Lifestyle audiences reflect broad interest groups such as "tech enthusiasts" and "deal seekers." Advertisers can reach lifestyle audiences to plant their brand in the minds of shoppers who have regularly shopped for related products in the past year.
in-market audiences can be leveraged to reach customers who are likely to take action or make a purchase based on a recent search, browse, or purchase behavior in the past 30 days.
If advertisers offer products or services that fit a specific, qualified audience, they can choose to reach select demographic audiences to keep campaigns applicable. Although demographic options vary in each locale, some common examples are gender, age range, household income, and the presence of children in the household.
Advertisers can leverage Amazon remarketing audiences based on views or purchases. To reengage Amazon website audiences that viewed a product specific to that advertiser's brand, viewed any products under that brand, or viewed any similar products to the promoted product, advertisers can leverage remarketing audiences based on views. To exclude audiences that purchased their products or brand or encourage them to repurchase, advertisers can leverage remarketing audiences based on purchases.
Contextual audiences are actively searching for or viewing products. By leveraging contextual audiences, advertisers can deliver relevant ads based on the detail page shoppers are actively browsing in the contextually targeted product category.
Keywords:
This refers to what people are searching for when they visit a website. For instance, if a person searches for "buy shoes," you may want them to see your ad. You can also choose from some pre-populated keywords that Amazon automatically associates with your product (e.g., "running shoes").
Budget:
This refers to how much money you want to spend on advertising. If you are just starting out, we recommend that you set your budget to $5 per day for 10 days (or until Amazon approves it). This will allow you to get a feel for what works and what doesn't without spending too much money upfront.
Conclusion
We hope that this article has helped you learn more about the Amazon DSP, its benefits, and how to use it to boost your advertising success. The Demand Side Platform is a powerful tool that can help you reach new customers and increase sales on your eCommerce site. If you're still unsure about whether or not it's right for your business then we recommend doing some research before committing any time or money into it. However if after reading through this guide there still seems like there might be an opportunity here then go ahead and give it a try!